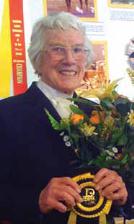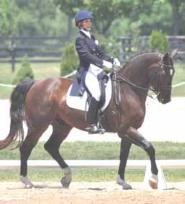 72 SIDELINES SEPTEMBER 2011
FOR HORSE PEOPLE • ABOUT HORSE PEOPLE
By Lauren R. Giannini
With Oprah's buzz that today's 50s are the new 30s, the
sky's the limit for equestrians. Are horses your fountain of
youth or are they simply good old-fashioned horse-power?
These two ladies admit to being 55-plus and they're still
dancing with their horses. They're also representative of
the strengthening of the mind-body-spirit and the character-
building that result whenever riders set out to climb that
Not For The Faint Of Heart
Mary Grace Davidson, a native Californian, has been a
horse breeder, trainer, competitor and judge with a USEF
"S" level rating. She has earned six Master's Awards from
the USDF program that began in 1990. In March she
became the sixth dressage rider in California to join the
Dressage Foundation's Century Club.
Not one to give up, even after a trailer accident claimed
the life of her dancing partner Marquis, Mary Grace threw
herself into an intense month schooling a borrowed horse
for the First Level Century ride.
"I would have had a much happier ride if I had my own
horse," says Mary Grace. "Rush was working just fne
at home, he was just wonderful until he got to the show
grounds. I actually placed in the class: the horse had a
lot of ability, he was just overwhelmed. Sometimes, we do
what we can with what we've got."
Mary Grace's mare, Design, is just about ready to show
second level, but she admits that years ago she had
reached the end of her competitive rope. "I had started in
the 1970s and my last year competition-wise was the year
I was 75," she says. "My horse Marquis and I received a
score of 62% an Intermediaire I, and I thought that was a
good time to quit. I competed at the Grand Prix level years
ago, but people underestimate what it takes to do upper
level dressage. You have to be strong enough to make
yourself effective, but there's no way you can be stronger
than a horse. The technical aspect of riding is much more
important than sheer strength."
About 40 years ago Mary Grace left her job as technical
editor with the aerospace program to devote her life full-time
to horses. With her husband Clyde, she established Lucky
Acres, a small dressage training facility in Walnut Creek.
Hilda Gurney taught there once a month for 10 years, as
one of the visiting clinicians. Dressage has changed over
the years, but not Mary Grace's passion for the process.
"Aside from simply enjoying being around and
handling horses, I love the whole aspect of training," says
Mary Grace. "Horses have a job, and the better they do
it the happier they are - just like people. The philosophy
and techniques of dressage have made me a better rider
and trainer.  The goals are clearer, and the rides are more
A Peaceful Place, Alone With Your Horse
Susan Gohl has been doing Grand Prix for seven or eight
years. She bought Enigma, her current dancing partner,
fve years ago from Jane Cleveland in Tennessee. Susan
is one score away from her USDF gold medal.
Her love for horses started in early childhood. She grew
up on the north side of Chicago when there were four livery
Dancing Toward The Golden Years
stables right in the city. Arthur Konyot was one of her teachers.
"I think Arthur was Tina's grandfather and it was the frst time
I ever saw dressage," recalls Susan. "Arthur would get on
a beautiful horse and say to all the kids, 'watch this horse – it
does the rumba.' Then we'd watch the dancing horse. I got
into Saddlebreds and loved it. I carried riding through all of my
life." In the mid-1980s Susan took jumping lessons and started
foxhunting. She married Fred Gohl, joint-master of the Fox River
Valley Hunt. When Fred stopped riding, Susan got into dressage.
She started Flying Dutchman Farm, hired a German trainer and
brought back young horses from Germany and Holland to sell.
She got out of it about six years ago and sold the farm. She went
from three horses down to Enigma, who still lives there.
"You can't fght the gene pool, but if you don't have anything that
gets in the way, ftness is so important, because riding's a bit hard
on the body if you're not ft," says Susan, who exercises seven
days a week for 45 minutes.
Last year she cut down on showing when her husband was
ill, but Susan intends to get back into the competitive arena this
year. That means more time in the saddle and sessions with her
trainers: Julie Julian (IL) and Michael Kohl (FL). She divides her
time between Illinois and Florida where she's based in Naples and
travels over to Wellington.
"I think I love dressage because I have a very busy life – charity
work, modeling, my grandchildren and traveling with my husband.
Dressage was always my way to be alone with my horse," says
Susan. "When you're riding, you stop thinking about everything
else that's going on. You pay attention to your horse. It always
gives me a sense of peace."
Mary Grace Davidson
- On the occasion of being
accepted into the Century
Club of The Dressage
Foundation at Yarra Yarra in
March 2009, after her frst
level Century ride test with
Rush, 19, who had never
been to a dressage show
Susan Gohl
and her Enigma
at Silverwood
Dressage in
2009 have their
sights set on
earning the
USDF gold
medal in the
near future