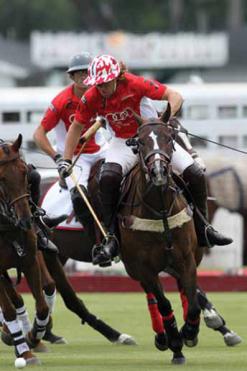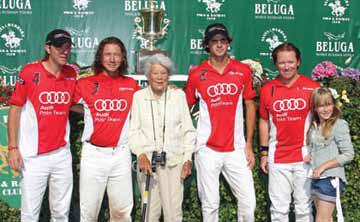 80 SIDELINES SEPTEMBER 2011 
FOR HORSE PEOPLE • ABOUT HORSE PEOPLE
Catching up:
Amy Brooks
ACTHA ride on September 10th (it's a competitive trail
ride association) at her Aiken Bed, Barn and Breakfast.
Her property was the site of a Civil War battle ... she tells
us that Kilpatrick came through Williston and burnt down
everything and then encountered an Alabama cavalry unit
Iron Man Lyndon Lea
can smile big now, as his Zacara
team captured England's coveted
Vuevue Cliquot Gold
Cup at Cowdray Park
in a 12-11 victory over Les Leons.
With over 20,000 people in attendance, despite early
morning rain, both teams put on quite a show as the
tournament was also broadcast live via the internet thanks
to hurlinghampolo.com. Amazingly, neither a
Pieres
Cambiaso
made it to the fnals; Lyndon takes the cake
on determination to win the tournament. Not only was he
recovering from shoulder surgery in May (he had to have
bolts and plates put in to secure his shoulder after a nasty
wreck last winter in Palm Beach), he also suffered a broken
hand earlier in the Gold Cup tournament (and played the
fnal with a cast), and all the while was preparing for a
hip surgery scheduled for two days after the Gold Cup
Peter Brant's White Birch Team
that continues to take the high goal in Greenwich, winning
the East Coast Open over Heathcote, 15-11
Billy Bush
Henry Winkler
Access
Hollywood
about attending the Prince's polo match at
Santa Barbara
. Although it was a royal event, Henry was
Nacho Figueras
be ffteen ugly guys out there" because Nacho was so
Chow down:
Guests will no longer need to leave
The
Will Rogers Memorial Center
in Ft. Worth in order to get
a meal or relax with a refreshing beverage in a comfortable
atmosphere. In response to the increasing needs of large
equestrian shows and other public events, WRMC and
the City of Fort Worth have entered into a public/private
7-goaler Sugar Erskine has found a new way to make a
statement on the polo feld. Loudmouth Golf Company has
now ventured into polo, sponsoring and outftting Sugar and
his horses with new attire, including this fashy new helmet
that Sugar sports during the 20 goal season in Santa Barbara
Photo by David Lominska, courtesy of Melanja Jones, SB Polo manager
Marc Ganzi's Audi Team
kicks off its summer in
Santa Barbara with a win in
the Beluga Robert Skene
Trophy.......funny thing is, Marc
had to face off against wife
Melissa's Piaget team in the
fnal to take home the trophy.
Polito Pieres, Sugar Erskine,
MVP Lucas Lalor and Marc
Ganzi celebrate their win with
Ms. Elizabeth Skene
Photo by David Lominska, courtesy of
Melanja Jones, SB Polo manager