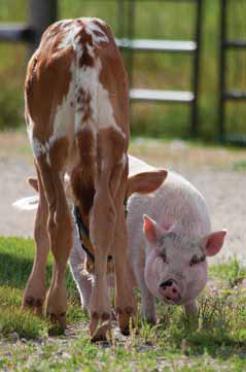 FOR HORSE PEOPLE • ABOUT HORSE PEOPLE 
SIDELINES SEPTEMBER 2011 81
Who says we all can't get along? Gillian Johnston's pig
Charlie, shares some bonding time with calf Lorenzo at the
Flying H Polo Club in Wyoming
Photo by Gillian Johnston
Reata Restaurant
to open two dining locations
on-site for year-round use.
A friend in need is a friend in deed.
Gregory Ross
Santa Fe in his F250 and horse trailer loaded with goods to furnish
his new Dallas townhouse when the hitch dropped from beneath
his truck and the trailer jack dug into the pavement of Old Pecos
Trail. Within twenty minutes of being called,
Eric Oppenheimer
was there with his truck and correct hitch and ball. After some
creative engineering, the two (along with one of Santa Fe's fnest)
had the trailer on Eric's truck and stored away until the necessary
repairs were made. Now, if Ross would use that rig to haul ponies
rather than furniture, he may be getting somewhere.
Mark J. Gerard
, the veterinarian for champion horses
Secretariat and Kelso died June 21st in Miami from complications
of a stroke. He was 76. He was at work on June 6th at a stable
in Wellington, FL, where he treated polo ponies, when he was
Frank Stallone, Sr.,
Sylvester Stallone
his Wellington home on Monday. He was 91. He was best known
locally for his love of polo and for appearances at Italian festivals
throughout the country. He played polo for nearly 70 years, and
will be missed by all who knew him.
Dirty Breeches
By Lauren R. Giannini
Horses mean getting dirty. Take your pick: slobber, muddy
equine, hoof oil, soda, coffee, Betadine or grass stains from that
unplanned dismount and abrupt landing on terra frma. White
breeches are the worst, because some stains camoufage well
against a beige background.
"Can you tell me why the heck the British with all their khaki
picked white for breeches?" asked Suzi Worsham during Twilight
Polo at Great Meadow (The Plains, VA). She started to regale
friends sitting in the Riverside Farm box about her herculean
efforts to restore flthy breeches to snowy white status. "After
Travis [her husband] stopped playing polo, I thought I was fnished
with trying to get white breeches clean," admitted Suzi.
Neigh: Wyatt Harlow, not quite 16, is totally hooked on the game.
In fact, Suzi and Travis's grandkids are genetically programmed to
be crazy about horses and spend as much time as possible at the
Worsham Farm on the north side of Leesburg.
"You can't imagine all the stuff I have tried," says Suzi. "Trying
to get dirty breeches clean goes way back, many years. I tried
old-fashioned bluing one time, and I guess I had a bottle that was
so old, it turned the breeches blue-polka-dotted. Travis didn't
wear them – he played in some other breeches. But some of the
White breeches are a real challenge to launder
Photo by Lauren R. Giannini
Continued on page 89