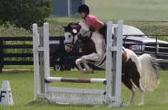 94 SIDELINES SEPTEMBER 2011 
FOR HORSE PEOPLE • ABOUT HORSE PEOPLE
NEXT ISSUE 9/10
DEADLINE 8/19
SIDELINES' CLASSIFIEDS
EMPLOYMENT
WORKING STUDENT –
Prix Rider, Suzanne La Porte, Position open
now. Resume required. Needs gentle soul with
knowledge. 561-909-8163 SE06
WANTED
: Agent/Driver for Wellington, Fla.
Based Horse Transportation Operation CDL
Required Call: (954) 448-1044 A206
HORSES FOR SALE
DAVIDHOPPERINC
12501. Outstanding selection of sport horses-
from unbroken to competition ready. Hunters,
Jumpers, Dressage, Equitation. All prices,
ranges. David Hopper. Cell: 914-474-7175.
Barn: 845-373-8897. www.davidhopperinc.com
MARK JUNGHERR –
select hunters, jumpers, equitation horses . To
view some of these horses, visit: youtube.com/
starlitesales or call 978-460-0631 SE07
JAMES IS A KIND TRUSTING HORSE -
age refects 4 years of light Fox hunting
.
refer to; dreamhorse.com ID# 1697576 SE08
TWO 2004 QUALITY BRED DRESSAGE
GELDINGS -
Future/Jet Set-D and a grandson
of Rubenstein/Donnerhall/Weltmeyer. Good
basics and professionally trained with show
experience and sound minds. Call 561-909-
HORSES WANTED
EQUESTRIAN COLLEGE RECRUITER
LLC
- is looking for some nice school horses
that are serviceably sound. These horses can
compete on the fat through jumping 3'6". Many
colleges are looking for mounts to replace some
of their school horses that are retiring. I have
placed about 8 horses in the last few months.
You get the satisfaction of fnding your horse a
new home where he will be well cared for and
loved and you may qualify for a tax write off.
This is a free service and colleges are anxiously
waiting on some new arrivals. Please visit www.
EquestrianCollegeRecruiter.com and click on
LAND FOR SALE
AIKEN, SC – LARGE EQUESTRIAN ESTATE
LOTS FOR SALE
…owner fnancing available.
Lots are within Hatchaway Bridge Farms,
the most beautiful equestrian development
in Aiken, SC. Only 8 miles from downtown
situated in the equestrian corridor on the rural
east side of Aiken. Prices range from $100,000
to $1,000,000 a lot……….range from 5 acres
to 50…………….fenced with study four board
horse fencing, all cleared but with large shade
trees left for privacy. Land has sloping views for
homes and fat areas for riding facilities. Contact
Samantha Charles for more information. All
realtors welcome. 803-649-6989 samanthac@
SADDLE TRAIL LAND - EXTREMELY
MOVIATED SELLER – BRING ALL OFFERS
$479,900
This is the only parcel in Saddle Trail
Park currently offered for sale. It is high and dry
and completely fenced. This is an exceptional lot
backed by a canal and the bridle trail, just a
7 min. hack to WEF. Call Now! Mary Ellen
Sencer 561 512 4340. Saddle Trail Realty. LLC
saddletrailsrealty@gmail.com FE07
PONIES FOR SALE
CALL WOODLANDS FOR TOP OF THE LINE
Fancy, med. & large ponies going well u/s @
good prices. Also young and breeding stock.
434-636-5522 www.woodlandsponies.com
SUPER FUN PONY FOR SALE
cross, 15, 14 H, chestnut with star, strip, snip
and faxen mane/tail. Has done hunters,
jumpers, police horse training, parades, trails
and Pony Club. Travels great. Will work for short
stirrup, older children or small adult. Approved
home only. (IN) 260-468-2392 or kim@
looncreekenterprises.com , $2,800
PSYCHIC READER
PSYCHIC BOUTIQUE READINGS
Past, Present and Future. God's gifted superior,
can help you in all matters of life. Call today
REAL ESTATE
EQUINE PROPERTY
- 5 bedroom 5 full baths 2
1/2 bath home on 50 acres built approx. 1998 5
stall barn with work shop/ tack room additional
out buildings 2 bedroom caretaker apt above
the barn. Pool, 2 acre stocked fsh pond, hot
tub exercise room 3 stories with all the stuff you
want to live the life. Dexter Michigan approx.
15 minutes from University of Michigan in Ann
Arbor. 1.2 mil frm price reduced from 1.8 Call
810 923 6199 or inquire ggspitler@aol.com
L'IL DECO - TOBIANO SPORT PONY
 Generation Art Deco - Pinto, Oldenburg/
Shetland cross, 14.1hh Gelding currently
training and showing in multiple disciplines -
Dressage, Eventing, Hunter/Jumper and Fox
Hunting.  He sails over 2'9" hunter course jumps
with great endurance and accuracy.   Foaled
February, 2004.  Flashy, kind pony with beautiful
markings:  a Medicine Hat, natural eye tattoo
and white eyelashes!  Price $5,000.  Call (828)
808-1040 or email: quinnsarah@att.net JA15
5 BEAUTIFUL ACRES -
County, FL near Live Oak with quick access
to Gainesville. Rolling land with beautiful
hardwoods. Secluded and perfect for your
dream home and horses. High and dry. New
Survey included. $55,000. Owner fnancing if
qualifed. Email: tohim@pbtcomm.net or call
(803) 466-7399 or (803) 685-5902. M216
Missed the deadline?
You can advertise on the website
Email: Classifeds@sidelinesnews.com
AMAZING SELECTION OF WELLINGTON
PROPERTIES – FOR SALE- BARNS,
HOUSES & CONDOS
LLC  Mary Ellen Sencer 561-512-4340
saddletrailsrealty@gmail.com AP10
$265,000.00, CAMDEN, SC, 5.1 ACRES
4BR /31/2BA's.2531 sq. ft. next to Hunt
Country (use of trails only with Hunt's
permission). Virtual tour at
www.propertyshow.com/art01
Minutes from SC Equine Park. Call Graham
Realty, Inc. 803-432-7370
***NORTH CAROLINA, COLONIAL 13-
ROOM EQUESTRIAN ESTATE ON 130
ACRES–
Over 5,000 sq. ft., 1st & 2nd foor
master BR's. Vinyl fencing, 22-stall barn w/
water & hayfeeds, 2 tack rooms, offce w/full
bath, kitchen,& laundry. 3BR/2BA keeper's
***NORTH CAROLINA, PRISTINE
WORKING HORSE FARM ON 32 ACRES –
Elegant 3500 sq. ft. all brick home with 1st
foor master. Very private setting. 6-stall
barn, 2 round pens, lighted sanded arena,
tack room, training rings. $599,000
RE/
MAX Hometown, Paul & Connie Sedlak
csedlak@mindspring.com 888-839-9412