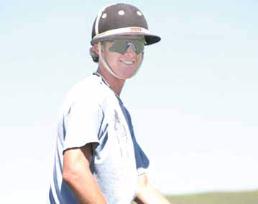 100 SIDELINES DECEMBER 2011
FOR HORSE PEOPLE • ABOUT HORSE PEOPLE
By Danika Rice
In the dusty scene of West Texas Polo, the silhouette of
a long-legged man in a cowboy hat seems almost cliché,
almost a little too perfect. And yet, there they stand, not
one, but four, united as a family and surrounded by their
horses in Midland, Texas. The "Stimmel boys" has a
connotation all its own in their hometown, as a reference
to the four hardworking, polo playing, handsome sons
of Carolyn and Harley Stimmel. Each has earned their
respective recognition as horsemen and athletes, both
in their hometown and within the polo community as a
whole representing polo from the Interscholastic and
Intercollegiate levels, all the way to becoming members
of the Team USPA program, as well as playing in various
locations throughout the United States. However, it was
recently Russell Stimmel, the third in this foursome of
brothers, who was invited to represent the U.S. on an
International level, representing our country in the 2011
Under 18 tournament in Tianjin, China. Sidelines caught
up with Russell after his victorious trip across the world, to
hear all about family ties and where he hopes to head in
the future.
Sidelines:
What is the best part about playing polo with
RS
The best part about playing with my family is receiving
the priceless education on horsemanship, and learning frst
hand from three generations of polo what it truly means to
be your handicap on, but more importantly, off the feld.
Furthermore, in past years my two eldest brothers (Steven
and Jake) and the Texas Tech Cartel would completely
annihilate myself and the midland high school team.
Much of our high school teams' success is attributed to
these brutal poundings we would receive during miserable
January windy and bone chillingly cold days.
Sidelines:
What is the most memorable polo game you've
RS
The most memorable games I have been fortunate
enough to have played in were the fnals of the national
high school championship, when I competed alongside
my older brother Jake in 2008, and the fnals of the 2011
Goldin U18 tournament in Tianjin,
China. Both of the teams I played
with won the tournaments.
Sidelines:
teammates, who would you play with,
RS
Without hesitation I would pick
my brothers Steven, Jake and Joe-
Mac to play against the four Uretz
brothers of California on a nice feld
with even better horses. Two multiple-
generation American polo families
competing against one another (four
siblings against four siblings) would
be quite a testimony to American
Polo, and America for that matter.
Sidelines:
to accomplish within the polo industry?
RS
I hope and strive to be a renowned horseman and to
achieve a respectable handicap of at least 8 goals or higher,
while maintaining the integrity to always put horses frst. A good
polo player and a great polo player are segregated only by
horsemanship and horsepower.
Sidelines:
Who has been the most infuential person in your
career, on or off the polo feld?
RS
There is not a single person I can attribute to being the
"most" infuential person for me on or off the feld. Growing up in
Midland, Texas around people like my dad (Harley Stimmel), Bart
Evans, Byron Wilson, Miguel Silvestre, Craig Duke, Kelly Beal,
Larry Stuart, Jim Ray, Rob Junell, Ciro Payan, Ryan Redell and
at times Jake Shanklin, has and forever will have, a direct effect
on how I play, strategize, and train for polo. Midland, Texas is
one of the most infuential polo settings in America. The people
here are irreplaceable, the horses which have been bred here are
world renowned and the polo is always fun no matter how hard
Team USA in China: Tony Uretz, Matt Coppola, Kareem Rosser and Russell Stimmel.
The fnals of the 2011 Goldin U18 tournament in Tianjin, China was one of his most
memorable games, ever, Russell says
Five Questions for Russell Stimmel
Russell Stimmel