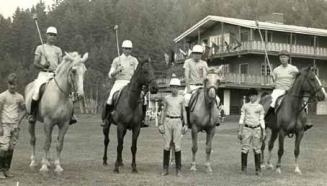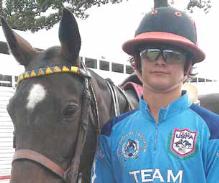 102 SIDELINES DECEMBER 2011
FOR HORSE PEOPLE • ABOUT HORSE PEOPLE
Catching up:
high-tech! Someone has launched the
spareholder.com App for Smartphones,
which will begin its testing during the
winter high-goal season in Florida!
Users will be able to scroll through a list
of people available for game help, and
contact them directly to enlist them to
60 Minutes just fnished flming at
Owen Rinehart's
SC for a special on polo. No word yet
on when the episode will run, but good
US polo is going international, as
both our FIP team and Team USPA
members played in Argentina and China,
respectively. (Read about it in our new
column, Kris' Korner) Our Under 18
team competed in China this month
(you can catch up with one of our team members,
Russell
Stimmel
, in this issue). Our youngsters came home with
the win, while unfortunately we didn't fare quite as well
Todd Overfeld
from his rodeo escapades to try a little polo during a brief
stay in Houston with polo pro
Shane Rice
cowboys and polo don't mix??? Might want to ask Bradley
Most Eligible Bachelor Dallas
Bravo
the polo segment is something of a hoot. We understand
that Bachelor Drew didn't really take to the sport, and
perhaps some better underwear might've helped the whole
experience for him… and perhaps a pair of boots?
BarryStout
Aspen
a special event permit for his annual winter polo tournament,
based on concerns about degradation of local parks. The
World
Snow Polo Championship
has held its event in December
at Wagner Park or Rio Grande Park for the last 11 years, but
concerns about snow compaction for the event and the subsequent
damage to the turf means that, according to the special events
committee, snow polo organizers may not use the parks this year.
Bumps and bruises:
Bradley Biddle
Houston Texas off an ERG horse just trying to get on his mount!
This came after a previous day's calamity in which the horse he
was umpiring on decided to freeze on the feld, forcing Bradley to
dismount during a chukker. He needs someone's magic touch!
Before fnally making it to Houston to start the rest of the fall
Jared Sheldon's
San Diego
falls in the same game during the Spreckles Cup tournament.....
his frst week back after putting a plate in for a broken collarbone!
Someone needs to practice staying ON his horse!
Club News:
Wellie worlders, take note: You too, in Citrus and
There's going to be a Manure Management Summit courtesy of
Florida Department of Agriculture and Consumer Services
(FDACS)
on Tuesday, December 13th, 2011, from 10:00 am to
2:45 pm, conveniently located at the Ocala Breeder Sales, Inc.,
Inter-Wagering facility (just south of the sales pavilion), at 1701
SW 60th Avenue, Ocala, 34474. There you may get answers
to state legislation, local ordinances and
Florida's new equine
BMP Manual
. Hear about a local farm's frst-hand encounter
with having a manure pile, how state agencies got involved with
its removal and the steps the farm took to clean up the pile to
gain resolution. Find out how to get help eliminating your manure
pile and implementing BMPs on your farm.This summit is FREE
to all attendees, including a FREE lunch, but
space is limited
Register online at: http://manuremanagementsummit-eorg.
eventbrite.com/, or call the Extension Offce at (352) 671-8400.
Debbie Bauman's
Divots & Bits
She's been working on promoting polo on the social level for the,
ahem, more mature player. "There seems to be polo players who
still want to play but not at a rock n' roll level," Debbie says, "so
now Millwood Polo is the place to be. I must admit that I do love
the social, club polo. Recently we just had 6 players on the feld
age 80 through 60. We had a blast!"
Who can identify the year, the place and the players….free sub to Sidelines for
the frst correct answer………
Wyatt Harlow is ready to play with Team USPA in
Aiken, with one of his string, Mimi, bought and paid for
by helping out on his grandparents' farm every chance
he gets.