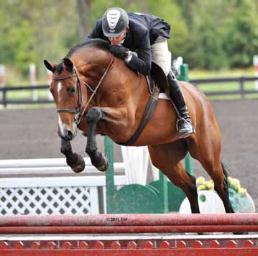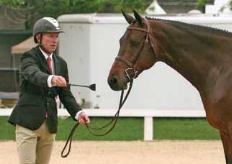 22 SIDELINES DECEMBER 2011
FOR HORSE PEOPLE • ABOUT HORSE PEOPLE
On Course With Jeff Gogul
By Jan Westmark-Allan
Trainer Jeff Gogul lives in Chagrin Falls, Ohio, an eastern
suburb of Cleveland, where he and his wife Keeley own
and operate Flagship Farm. Jeff and Keeley, who are the
proud parents of six year old Reilly, founded Flagship in
1998.
"When I was 16, I started training with Beth Nielsen and
after my fnal junior year Beth offered me a job. To my
parent's dismay I jumped at the opportunity. I wore every
hat along the way and it was an amazing time of learning.
Eventually Beth's North Coast Farm joined forces with
Maypine Farm and that's how I became an 'eastsider',"
Jeff said. "That's also where I met my wife Keeley. She
was hired as the barn manager after college and eventually
became the road manager when our show schedule
expanded to distant places."
When it was time to strike out on their own, Jeff and
Keeley started Flagship, a farm Jeff describes as family
oriented. "Our clients are there to learn and we offer support
from the bottom up. It's the best bunch of cheerleaders you
could hope for," he said. In addition to enjoying their farm
and all the success they have had along the way, Jeff said
he and his family love the area where they live. "Chagrin is
a great place to come home to and it has great dining, great
shopping and we can walk to town. It's much like upstate
New York or Connecticut but with Midwestern fair."
Sidelines:
How did you start your riding career?
JG:
I grew up in Bay Village on the other side of Cleveland.
I rode at a barn near my house called Holly Hill. I didn't
start until ffth grade and never got to ride ponies as I was
too tall. Leslie Monaghan was my frst trainer and she was
tough which was great for me because I was timid. Holly
Hill was a great place and I was a barn rat in every sense
of the word. We did all unrated shows and worked off the
trailer. My parents need to be sainted because those were
really long show days! As a kid I read anything with the
word "horse" on it and went to the big Chagrin show every
July from sun up to sun down every day and watched. I
scoured the barns to see what went on behind the scenes
and got to see the best of the best show including George
Morris, Katie Monahan, Joe Fargis, Leslie Burr and Conrad
Homfeld just to name a few. I never would have dreamed they
would someday be my peers.
Sidelines:
You have had great success as a trainer over the
years, what do you consider your career highlights?
JG:
I have been very fortunate in my career to have had so
many memorable moments with my students including wining the
medal, the Maclay and The State Line fnals as well as several
zone, WEF and WCHR titles. It is also fun to see the number of
young professionals out there whose careers I have been a part
of. These were great wins but recently I have realized that it's
the process and the journey that drives me. You have to be able
to enjoy the steps along the way and you are never going to stop
learning in this sport. I think if it were that easy and predictable it
Sidelines:
What do you like better, competing, training or
JG:
I love competing. There is nothing like the feeling of a round
where it all comes together, whether it is baby green or regular
With that being said, I love teaching, especially the "sponges." It's
very gratifying to be part of those breakthrough moments when it
all works or when they fnally feel what they have been striving for.
For me the training and teaching go hand in hand.
Sidelines:
You recently won the $10,000 Pre-Green Hunter
Classic at the Culpeper Finals at HITS, what was that experience
JG:
I was really happy with my win at Culpeper on By The Way.
I looked for that horse for about a year for owner Ruth Kanner.
He hadn't shown since May and I gave a lot of thought into his
preparation and he was wonderful. He went on to have a great
show at Capital Challenge as well.
Jeff rode Ruth Kanner's By The Way to the win in the $10,000
Pre-Green Hunter Classic at the Culpeper Finals at HITS
Jeff and Champagne Brunch at the Bluegrass Festival