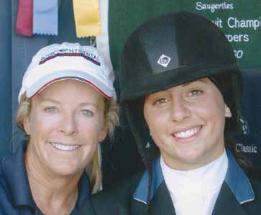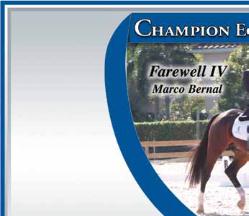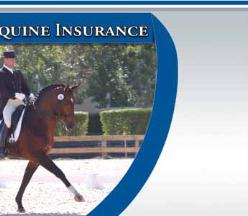 FOR HORSE PEOPLE • ABOUT HORSE PEOPLE 
SIDELINES DECEMBER 2011 25
Nona Garson, the energy behind The Ridge, all three locations,
shows, clinics, training and teaching, at the elite InterContinental
Sport Horse Auction in Wellington, which features 25-30
high class horses that have been approved and vetted out.
Prospective buyers can test ride the horses for the week before
the auction, Feb. 20
Photos Courtesy of Nona Garson/The Ridge
under you. Finding the center of the horse is also a vital factor.
"Learning to think like a horse is something that some people
miss when they're riding," she explains. "They try to think in their
own terms and you really have to keep trying to think like the
horse is going to think and react in his way."
Nona has ridden with George Morris, but as a kid she recalls
riding with Alex Iby, a Hungarian who came over about the same
time as Bert de Nemethy. She credits Iby for starting her in her
"I've always been a student of watching," admits Nona. "I was
very lucky. As a kid I spent hours at the ring, watching the great
riders in the hunter ring and the jumper ring. I learned from all
my international experiences. American riders have a great
advantage, in a way, because we've learned how to be so smooth
from our background in hunters and that makes it easy for us to
Nona Still Loves Shows
Showing remains a huge part of her life. For three years Nona
has worked with her staff and her fancé George D'Ambrosio to
make The Ridge at Riverview the American facsimile of some of
the great European venues where she loved to jump. She credits
being a "horse show visitor for 40 years" for her understanding of
"Footing in the ring and everything around it," says Nona.
"We worked hard to fnd Riverview. It's a very special place,
surrounded by 500 acres of protected farmland in a beautiful part
of New Jersey. We're a little over an hour from Philadelphia, a
little under an hour from New York City. The grand prix ring is
sand and fber footing, built like an amphitheatre into the side of
the mountain and big enough to hold a World Cup class. We have
a natural grass grand prix ring with a two-tier bank and a real
Liverpool. We're very excited about it."
Enthusiastic, too: it doesn't matter whether she's in the irons,
working with juniors on their equitation, helping an adult amateur
to nail that smooth round, building a rider's confdence to jump
bigger fences or running InterContinental Sport Horse Auction.
Nona's love for horses really shows.
Winter Equestrian Festival
"Champion Equine Insurance
Hunter and Jumper Style Awards"
Equine Insurance Experience
Providing the Best Protection
For Your Champion and the
Peace Of Mind You Deserve
INSURE YOUR CHAMPIONS WITH A CHAMPION
Contact Laura Whitlow at 561-596-5408 • 561-795-5401 • lwhitlow@championequineins.com
C
EI
C
EI
C
EI