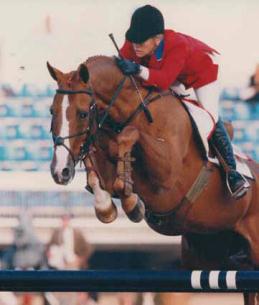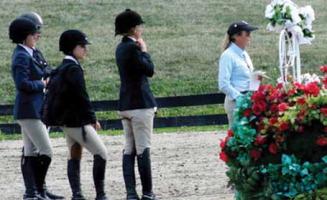 24 SIDELINES DECEMBER 2011
FOR HORSE PEOPLE • ABOUT HORSE PEOPLE
Nona Garson
By Lauren R. Giannini
Nona Garson has experienced the entire spectrum
of excitement, thrills and disappointments offered by
international grand prix jumping without ever losing her
positive attitude. Her passion for horses dates back to her
childhood and it's probably stronger than ever today: she
still competes in hunters and jumpers, balancing her riding
with teaching, literally showing her students how to get the
Nona's 'curriculum vitae' includes the 1998 World
Championships and 2000 Olympics. She rode on the team
that won the Nation's Cup Finals at Spruce Meadows,
earned multiple leading lady rider titles (Aachen, Royan,
Gijon, Helsinki, won back-to-back Jaguar $100,000 Gold
Cups ('98 and '99) and garnered the 1999 American Grand
Prix Association Championship. Her international career
took off when she piloted Derrek to a surprising win in the
selection trials for the 1995 Pan American Games where
Rhythmical was Special
It was probably her partnership with Rhythmical that
made Nona a champion in every sense of the word even
if an Olympic medal eluded her. The 15.2hh Budyonny
gelding, 10 when she got him in 1995, was talented but not
easy and oh, how they clicked. That he had been traded
with two other horses for 150 used washing machines
added to his 'rags to riches' charm. At Sydney in 2000,
Rhythmical had problems with footing that severely
affected his jumping. The US fnished out of the medals in
sixth place – Rhythmical went on to win several more grand
prixs after that – but the Olympic experience carried great
benefts in terms of what Nona learned.
"In order to be successful in show jumping, you have to
learn to roll with the punches," says Nona. "Unfortunately,
several horses had trouble with the footing, not just
Rhythmical. The very frst horse and rider combination in
the ring slipped and fell and the man broke his back. The
footing affected some horses far greater than others, mine, being
one of them. He's such a little tiny horse. That's horse sports.
There are things out of your control all the time when you're riding
and competing. You just have to deal with it to the best of your
Teaching and Clinics
Nona brings lots of "been there, done that" experience to her
teaching, and her clinics are very popular and the upcoming one
at The Ridge in Wellington, Dec. 11-12 would make a super early
Christmas present. There will be sections jumping 2'6 to 3 foot, 3
to 3'6, and 3'9 and above for the jumper riders. Best of all, each
rider can bring an auditor.
"I'll have all levels of riders. My frst
section will be 2 to 2'6 so kids on ponies
can come, and it's not just for jumpers –
I have a great background in hunters,
too," says Nona. "We'll do some general
drilling, fat work, some gymnastics and
work on tips for dealing with little problems
they might be having, ring tips from my
experiences of 40 years of competing on
horses in the ring. The clinics are great,
because you don't always get a chance to
work with different people. You and your
trainer have a long time relationship, and
clinics give the kids a chance to hear the
same thing that their trainer is telling them,
but in a slightly different way."
Nona focuses on the whole package.
She believes that's it's important to teach
people to respect their horses, to have a
positive attitude and to learn to be in the
right position so the horse can perform
Nona Garson leads a course walk. Over the years she has coached a number of
successful juniors, including Darren Graziano, Katrina Woods, Dana Rizzo and
Jessica Herzog, to name a few
Nona Garson and Rhythmical: the little horse airs a big fence in
Rome