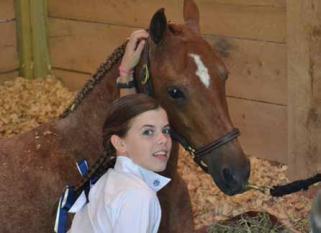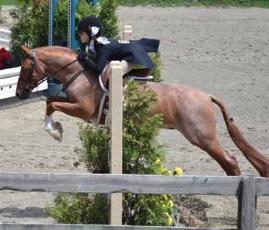 40 SIDELINES DECEMBER 2011
FOR HORSE PEOPLE • ABOUT HORSE PEOPLE
On Course
with Sarah
Clifton
Yandell
Sarah Clifton and
Pink Floyd make
a great team!
By Jan Westmark-Allan
Sarah Clifton Yandell is a 13-year-old rider
from Memphis, Tennessee, who will say
goodbye to the small pony division at the
end of the year. Throughout the year Sarah
Clifton has been leasing Pink Floyd, a small pony owned
by Peter Pletcher, and said that Pinky, as she calls him, has
not only taught her a great deal but has made her work for
each victory they have achieved.
"Pink Floyd has been a great pony to end my small pony
career on.  I met his owner at Devon this year and he was
encouraging and supportive.  Mr. Pletcher is a well known
rider from Magnolia, Texas, whose ponies and horses have
had great careers in the hunter jumper world," Sarah Clifton
said. "Pink Floyd and I spent the beginning of this year
getting to know each other and learning to work together
as a team.  It took some time. He has a huge jump and a
strong presence."
Sarah Clifton said that before Pink Floyd she was used
to riding forgiving ponies that helped her out of situations.
"Pinky makes me work for our success. He's a competitor
through and through and performs his job beautifully.  He's
a team player and does what is asked of him.  My trainers
have helped me understand how to be part of a team effort
and to think through how and what I ask him to do.  We
have worked on both of our positions in the air and how
to execute a course well.  Pinky and I have developed a close
relationship.  He recognizes me when I'm in the barn and will often
coax me over to his stall to have a minute to visit.  I think we make
a great team!"
Sidelines:
How did it feel to lead the point standings in the Small
SCY:
I'll always remember what it feels like to be at the top of
that list, even if only for a short time.  It's a dream come true to be
part of a team that has worked hard all year to make it to the top.
I'm very proud of our successes and our struggles.  The struggles
have helped our performances grow in a very positive way.  I
don't know were we'll be on the list come December 1st, but just
knowing we were there for a short time has made it worth it.
Sidelines:
What do you like about riding and training at Spring
SCY:
David Pellegrini bought and started Spring Mill Farm 25
years ago. He's great and has always taken his rider's careers
seriously, even if your goal was to enjoy the sport but not compete.
Dave always expects a level of seriousness and professionalism
that gives his riders an edge.  He pushes you to pay attention to
the details that matter. He always has a smile and a go-get-um
attitude. The last thing he always says to me before I go in the ring
is, "Ride well and have fun."  We always end on a positive note in
my lessons even when I'm not having a good day. He makes me
laugh and I can't imagine riding with anyone else! I also train with
another trainer who recently joined our barn. His name is Michael
Tokaruk and he trained at Spring Mill Farm four or fve years ago
but left to join a family venture. Michael shows in many of the
grand prix on an international level.  He has given me new ways
of improving my equitation and becoming a better rider. It's great
to have such an accomplished rider teaching at Spring Mill Farm.
I feel so fortunate that he's there and can help me.
Sidelines:
What are your riding goals?
SCY:
I started riding because I love horses and the outdoors. 
The more I learn about this sport, the more I want to be a part of
it.  I have a competitive streak in me that grows stronger with each
year.  I don't know where this sport will take me or how far I will
rise to meet it, but I can't imagine my life without it.
Sidelines:
Have you ridden other ponies?
Sarah Clifton and Pink
Floyd were Small Pony
Grand Champions at the
Blowing Rock Charity
Horse Show II
All photos by William Yandell