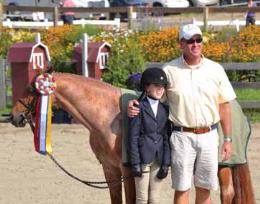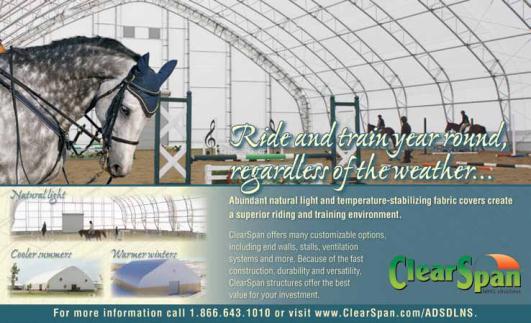 FOR HORSE PEOPLE • ABOUT HORSE PEOPLE 
SIDELINES DECEMBER 2011 41
Sarah Clifton and her trainer Dave Pellegrini accepting her
Grand Championship ribbon at Blowing Rock
SCY:
I rode a small black pony named Zorro for two years. He
was a great pony to start out on.  We enjoyed some wonderful
victories and some true learning moments.  Zorro actually has
a following and people still stop and ask me about him.  He's a
pony that was found in a petting zoo in Washington State. All in
all I believe Zorro prepared me for this year with Pink Floyd and
my other mounts. I am also riding a medium pony named Double
Whammy and a small green named China.  Whammy is a fun
ride and his jump is super big!  China is a fancy small green.  Her
green year has really taught me a lot about training. 
Sidelines:
What are some of your riding accomplishments?
SCY:
I had some great wins with Zorro. We won a seventh over
fences in the Small Pony division at the 2009 Pony Finals.  We
were able to go to indoors our second year and we won a fourth
in the Small Pony Handy. While riding Pink Floyd this year we
brought home a third in the under saddle in the Small Pony at
Devon, and Pink Floyd was Small Pony Grand Champion at the
Blowing Rock Charity Horse Show II.  I'm very proud of our year
together and feel a sense of accomplishment in understanding
Sidelines:
What do you do when you aren't riding? 
SCY:
I like to ride bikes with my dad along the nature trails near
my house.  I cook a lot at home for my family and I take care of
my animals.  I have a Norsie puppy named CC, which is short for
Cheese Cake, a chinchilla named Maggie and two big hermit crabs
named Mr. Crabs and Crabby Patty from Sponge Bob.  They've
all been fun pets and I would never let anything happen to them. 
I go to Paint A Piece with my friends a lot, too.  We have so much
fun painting pottery. I have a thing about art and crafts.  I have
drawers and drawers of pipe cleaners and construction paper and
glue and glitter and many other things.  I have to be creating when
I'm not at the barn, it's something that makes me happy! 
Sidelines:
Who are your equestrian idols?
SCY:
One of my idols is Melanie Smith, a local rider whose
mother ran a riding business in Memphis. She has been a very
successful rider, and was on the Olympic team years ago. She
has been an equestrian sports announcer and has done good
things for the equestrian world in recent years. I am also a fan of
Margie Engle and McLain Ward who are both great equestrians.
Sidelines:
Describe yourself in ten words or less.
SCY:
Happy, creative, love riding ponies, animals, cooking and