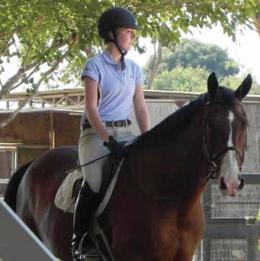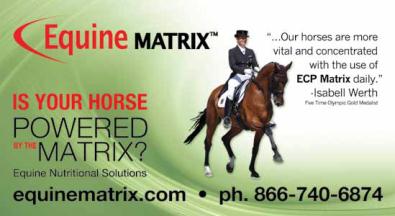 42 SIDELINES DECEMBER 2011
FOR HORSE PEOPLE • ABOUT HORSE PEOPLE
Juniorside
New Beginnings
not going to give my mom any
Are We There Yet?
To my delight, we left the
house at 8:00 am and arrived
by 9:00. The drive was quick
because there was no traffc
on that Saturday morning.
As soon as we pulled into the
driveway, I began scanning
the felds for Petey's familiar
face; but the owner told us that
Petey was on a different part
of the property. I could hardly
keep myself from running to
meet him. As soon as I saw
him, I called his name and
he came trotting over to the
fence. Unfortunately the other
two horses that shared his
feld didn't like Petey getting
all the attention, and tried to
bite him or just push him out of
the way to make room. While
my mom distracted the other
two horses with treats, I was
able to spend some time with
An Unexpected Surprise
All too soon, it was time
for the clinic to start. I
said goodbye to Petey and
promised to come back and
see him right after the clinic.
By Lauren Corey
My horse, Petey, has been on pasture rest since an injury
in early June. He hurt himself while jumping 3'6" and we
made the decision to sell him. Petey will always have a
special place in my heart since he was my frst horse.
Luckily we found a pasture at a facility within driving
distance from my house. There was a clinic going on at the
facility, which is also a training and sales barn, the day my
mom and I went to visit Petey. I signed up to ride one of
the sale horses in the clinic. We were planning on arriving
at around 10 am, but of course I was anxious to visit my
horse. I was ready to leave the house by 7:30 am; but
my mom didn't share my early morning enthusiasm. She
was relaxing at the table drinking her routine cup of tea,
but I could not sit still. I packed up that car with all of the
equipment I would need, got the camera charged and
ready to go, and even worked on cleaning my room. I was
Lauren listening to Mattias
Ekeroth while Nick poses for
the camera
Established in 1990
www.mobi lelaundr yser vices.com
Pick Up & Drop Off Available
Blankets & Sheets - Washing & Repair
Auto Detailing - Car, Horse Van