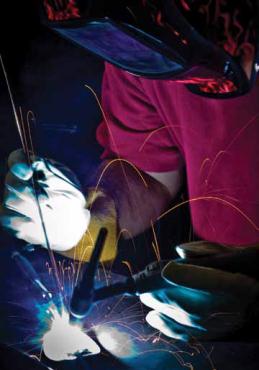 96 SIDELINES DECEMBER 2011
FOR HORSE PEOPLE • ABOUT HORSE PEOPLE
By Debra Gruszecki
It was a blistery, 110-degrees outside the shop, and
the sparks were fying. Christopher Wendell Kerley had
been commissioned to make the trophy spurs for the
Texas Open at Houston Polo Club. There was plenty
of melding, grinding and polishing to do. Working like
a modern day blacksmith, the La Quinta artisan had
already prepped an 8 inch long band of steel in the forge
to a red hot state to bend it into a U-heel shape.
With the shank welded on, and the rowels cut and
set in place, it was time to customize. Chris delicately
placed pieces of copper and silver sliced out of paper
fne sheets on the stainless shank with the precision of a
jeweler setting precious gems.
From the lettering to the mallet, and everything in
between, Chris strives for perfection. "I use silver
solder,'' he says. Never one to cut corners, the spurs
and bits made by "CWK" are known and admired around
"He has a gift,'' Memo Gracida said. "These are the
highest quality spurs and bits I have seen in my whole
Memo bought his frst set of spurs two years ago from
Chris, a second generation horseman. "When I frst saw
them, I could not believe it," Memo said. "They were
beautiful – fantastic, well-balanced. They ft very well.
The craftsmanship is superior." Memo has purchased
many more of Chris's Western-designed spurs and bits
since, presenting them to family members and friends
around the globe. Chris's waiting list is growing, as
Polo Club, to celebrities
except for it's a lot like
beautiful coastal city of
Artistry in Silver
keep them prepped for the felds. Chris surrounded himself
with as many horsemen as he could – notables like Joe Barry
and David Gonzalez. Chris has had a few glory years, himself.
"Memo taught me to be a gentle, balanced rider,'' Chris says.
"He was a big infuence on me. He helped me understand a
horse's logic: The Thoroughbred is very temperamental.
Hot-blooded. I was always taught the softer you were with a
Thoroughbred, the more you'd get along with them. The more
you got along with them, the harder they would try for you.
"It's always the bigger, stronger animal that's going to win:
It's the horse who wants to work for you that wins." Simple
details make a huge difference in the horse world, Memo said,
explaining that Chris's bits and spurs are made in a way a horse
would not view as severe.
"Chris is not an aggressive handler,'' Memo said, and his
work refects that. "His bits and spurs more like an aid for the
horse. "The rowels on the spur are round. The bits are not
hard on a horse's mouth. Weighted well, they are made in
ways that get a horse to respond – stop, jump or turn -- in
different ways. One bit Chris fashioned has a copper roller set
in a rounded spoon-like mouthpiece. "Horses love the taste of
it, and spin it around in their mouth,'' Chris says. "It calms them
down." Horses are never far from his mind.
Rising every morning at 5 a.m. to join his twin brother,
Mike, to make horses for the Mannix family or work with other
Thoroughbreds at the polo club and ranches surrounding it,
Chris barely has time to slap the dust off his jeans before he
picks up the propane torch to fll orders for his bits, spurs and
Chris hard at work on a new pair of spurs