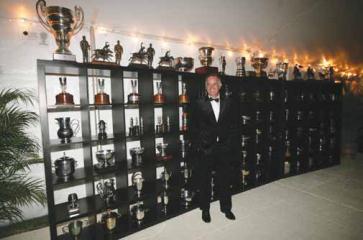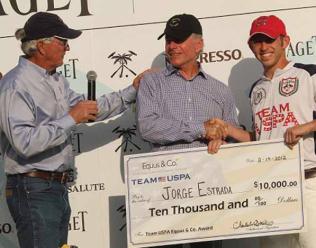 102 SIDELINES APRIL 2012
FOR HORSE PEOPLE • ABOUT HORSE PEOPLE
Catching up:
Clint Nangle is the brainchild
Overbrook Polo Club
along with the Masters of
Aiken
Hounds, Why Worry Hounds
Whiskey Road Foxhounds
all getting together to put on the
Tallyho Cup, a unique polo event
for hunt members playing polo
on their foxhunters. No polo
experience necessary! Clint tells
us that again this year, games
will be played at a level suitable
for foxhunters (two and four-
legged). Only horses who have
hunted are eligible for the 'Best
Playing Foxhunter' trophy.
Cornelia Guest
participated in the coin toss
International
Polo Club Palm Beach
fnal match between Audi and
Ylvisaker Cup
"We are really excited to have
Cornelia Guest at IPC. She was
the inspiration for our fashion
spread in the 2012 edition of POLO magazine," said
Analisa Muti
, who works in Marketing and Sponsorship
And a word from Eldorado:
Hart, General Manager of Eldorado recently and gently
corrected us for an inaccurate report of a virus in California.
Here's what she had to say: "I am writing with regard to
a piece written on Page 118 under ASIDES in the March
Edition.  In the second paragraph, it states, and I quote,
"Apparently the virus was brought in by horses at the rodeo
grounds at Eldorado.  It is airborne and most games and
activities have been cancelled."  This is not factual.  One
statement was correct, one of Domingo Questal's horses
died (actually was euthanized) from the virus.  Domingo's
horse was stabling at Empire Polo Club, where the virus
originated, not Eldorado Polo Club.  Eldorado was placed under
quarantine due to our close proximity to Empire.  Further, there
are no "rodeo grounds" at Eldorado Polo Club.  We are strictly a
Polo Club and endeavor to ensure the sport of Polo is held to its
highest standards.  While under quarantine, we strictly abided by
all recommendations from the California State Veterinarian and
no further out-breaks were experienced, therefore, the State Vet
lifted the 21 day quarantine on schedule and we are again playing
Again, we enjoy Sidelines and wish you continued success.
Shane Rice
is on a roll in Sarasota.......
three Best Playing Pony awards, and all
different horses........so what did he do??
Gave the whole string of them to his girlfriend
Nicole Stringer
to play her frst ever polo
The Busch family
within the sport of polowith another generation
of both players and horse trainers.
Andy
A man and his trophies - Carlos Gracida standing in front of an impressive display of
just some of the trophies he has won around the world - part of a one night exhibit at the
Museum set up specially for his induction into the Hall of Fame
The USPA announced that 23 year old
Jorge Estrada
the winner of the Equus & Co. Award,
honoring a Team USPA player for his or
her commitment to the sport of polo and
its growth in the United States. The Team
USPA program was established by the
U.S. Polo Association to identify talented
young American polo players and provide
opportunities for their development