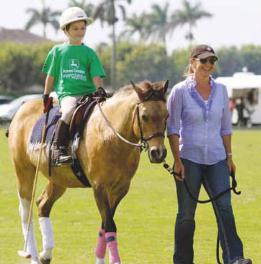 FOR HORSE PEOPLE • ABOUT HORSE PEOPLE 
SIDELINES APRIL 2012 103
NEXT: MAY ISSUE
:
Ad close date:
March 29, 2012
Issue date:
April 15, 2012
Reserve your advertising space NOW
Joyce Jones: 954-796-1809
jjones@myacc.net • National Sales
Melissa Burns: 561-951-4225
melissab@sidelinesnews.com • Sales Manager
Rolex Kentucky 4-Star Preview
Dressage - Equestrian Education
Ponies / Juniors - Summer Circuit
• Sidelines is an Official Media Partner of HITS
and Te Official Lifestyle Magazine of WEF
• 5,000 additional copies distributed monthly for
• Sidelines' updated and expanded website with
continually updated blogs and the print edition
in flip-book format receives over 700,000
The Avendano kid's polo tournament in Wellington celebrated
its 30 th. year! Kids 3-15 years of age were invited to play in
four different levels of polo. Kudos to continuing to support the
future of polo!! Bailey Biddle (daughter of 10-goal arena player
Tommy Biddle and mom Yvette were on hand during this year's
Photo courtesy Yvette Biddle
Busch, Jr
. is now playing alongside his father in Santa Barbara,
Grants Farm Polo Team
Adolphus
Busch's
Allie
is currently residing in Wellington,
Florida and has begun a training business with a string of young
Due to the increased demand for tailgate spots at the
International Gay Polo Tournament
, we're told that tailgating
will be available on both sides of the feld this year. Hospitality
tents will be open to the public on both sides of the feld as well,
offering food and drink from Wellington's
Kontiki Restaurant
The best tailgates spots are on a frst-come-frst-serve basis.
To ensure the best spot, call (560) 753-3389 or go to http://
gaypolotournament.blog.com/tickets/ now and order your tickets.
Get a head start on your tailgate theme and go for frst prize, a
gift basket from Gracie Street Interior Design.
Peter Von Gontard
will play his frst season in Houston with
Tim Kelly.
New Baby Department: Owen James Wheaton
welcomed to this world on January 29th. Baby Owen, Mom
and Dad, Detroit Polo Club manager
Paul Wheaton
Emmalyn
are all doing fne. Cal Poly polo alum
Kristin Trabert
gave birth to a little girl,
Kailee Trabert Aviles
Daniel and Leah Rowlands
welcomed their frst child,
a little girl on Feb 12 th.
Jason and Anne Knight
Caroline Mae
Sophia
Kate
Bumps and Bruises: Hunter Andras
Houston
Polo Club
spring season with a torn ACL
.
Interscholastic Tournament proved eventful in the Bumps and
Bruises department for both
Casey Woodfn
toenail!) and eventual Region Champion
Russell Stimmel
didn't manage to turn quite as quickly as his horse did at the wall!