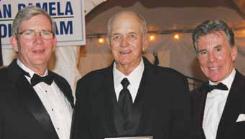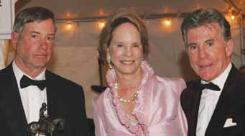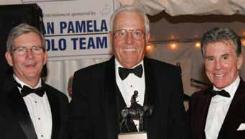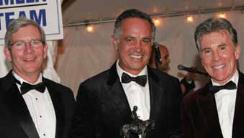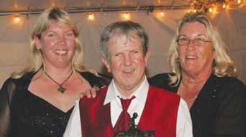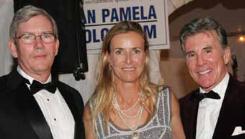 104 SIDELINES APRIL 2012
FOR HORSE PEOPLE • ABOUT HORSE PEOPLE
The 23rd Annual Museum of Polo and Hall of Fame
Awards Dinner Gala has come and gone; but the memories
made on this "Oscar Night" of polo will live on in polo history.
Taking place on Friday, February 17th , a star-studded array
of polo players and fans from around the globe gathered
at the Museum to honor the new inductees into the Hall of
Fame - Carlos Gracida (Living Hall of Fame Award); James
P. "Jimmy" Mills (Posthumous Hall of Fame Award); George
Alexander (Living Iglehart Award); Alfred G. "Herbie" Pennell
(Posthumous Iglehart Award); Chips Royal, owned by Bob
Beveridge (Horses to Remember); and Brown Fern, owned
by Mike Phipps (Horses to Remember).
John Walsh presided as the Master of Ceremonies. Dinner
sponsors for the evening were Everglades Polo Club, Mark
An Affair To Remember
Cecilia Cochran receives award for grandfather's pony
Caron Schantz, Bobby Pennell and Donna Pennell Schantz
accepting award for Herbie Pennell
Accepting the Hall of Fame Award for James P. "Jimmy"
Mills, his son Jim P. Mills and daughter Mimi Abel-Smith
George Alexander accepting award from Museum Chairman
Marty Cregg and John Walsh
Carlos Gracida receiving the Hall of Fame Award from
Museum Chairman Martin Cregg and John Walsh
Ebby Gourley accepting award on behalf of Bob Beveridge
and Melissa Ganzi, Grand Champions Polo Club, International
Polo Club Palm Beach, Barbara Uskup and entertainment
sponsored by the Jan Pamela Polo Team. The wine and
spirits for the evening were courtesy of Lipman Brothers,
Inc., Brown-Forman, Bacardi USA, Fetzer Vineyards and
Tito's Handmade Vodka. An interesting side note – "Tito" is
Bob Beveridge's son and Bob's great mare Chips Royal was
honored with a Horses to Remember Award that evening.
Also in attendance were members already inducted into the
Hall of Fame who came to honor the new members joining
their ranks - Red Armour, Steve Gose, Guillermo "Memo"
Gracida, Bennie Gutierrez, Julian Hipwood, Glen Holden, S.K.
Johnston, Jr., William Sinclaire, Charles Smith and Iglehart
Award Winners Tony Coppola and Dave Rizzo.