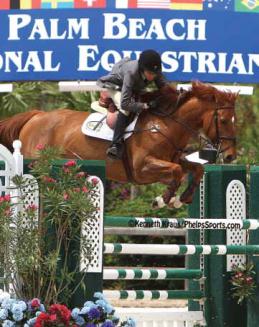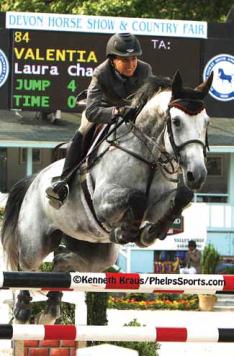 16 SIDELINES APRIL 2012
FOR HORSE PEOPLE • ABOUT HORSE PEOPLE
Jumpers in the Chapot Genes
By Lauren R. Giannini
Imagine growing up in a household where both of your
parents are former Olympians and become members
of the Show Jumping Hall of Fame. But the progeny
of Frank and Mary (Mairs) Chapot remember a tight-
knit family and an atmosphere of sportsmanship and
"We tried not to put that kind of pressure on the girls
when they were young," recalled Mary. "If they wanted
to ride, that was fne. I bent over backwards to give them
the opportunity to do other things – play on the tennis
team at school, swimming and baton twirling. They were
introduced to a lot of things, but they chose riding."
After college Wendy went into full time work as an
accountant; but remains an avid amateur jumper rider
even though her time is devoured by the job and by
Frank, nearly three, their six month old twins and her
"I'm happy being an amateur and to have a steady
job," admitted Wendy. "I have several horses at the farm,
two that I'm showing and I ride on weekends."
She recalled that making mistakes in the show ring
didn't mean the end of the world: "We discussed how
it could be fxed for the future, to try and do better next
time, now go out and have fun."
Laura Chapot and Bradberry: a speed specialist that suits her
Laura Chapot and Valentia My First Blue
Laura and Gem Twist
Laura, who was still a young rider, continued under her
parents' tutelage at Chado Farms, moving from hunters into
jumpers. She made her grand prix debut partnered with three
time AGA Horse of the Year, Gem Twist. They had bonded
during his lengthy recuperation from an infection that took
him out of the running at The Hague before the 1994 world
championship. By the time Gem was ready to compete again,
Leslie Howard, who succeeded Greg Best, had moved on.
During Laura's frst year over the big rails, they won the
$100,000 Autumn Classic and the Royal Winter Fair World Cup
Qualifer. Their overall success garnered the 1995 AGA Rookie
of the Year title for Laura. The next year, Gem and Laura won
the $100,000 AGA Grand Prix, his third with as many riders. In
1997, Gem Twist retired at Madison Square Garden and moved
with the Chapots from New Jersey to Florida and north again
until his passing in 2006.
A Family of Olympians
Wanting to ride in the Olympics runs in the family. Mary and
Frank competed on two Olympic teams together and often found
themselves in the starting order for the same classes. They
enjoyed what Mary describes as "an affable rivalry." They rode
many horses on the team, including Good Twist, San Lucas,
Trail Guide, White Lightning and Tomboy, to name just a few.
"Basically we looked at it as 'we have two chances in this
class to do well, to win,'" recalled Mary.
They have been together for a long time, helped along no