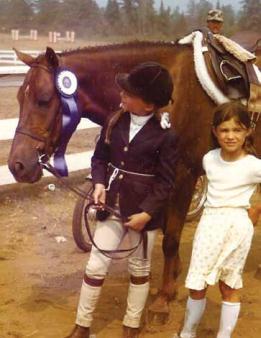 FOR HORSE PEOPLE • ABOUT HORSE PEOPLE 
SIDELINES APRIL 2012 17
Poppy, Wendy and younger sister Laura.
Photo Courtesy of the Chapot Family
doubt by their spirit of teamwork. It's a refreshing attitude all
the way around. They were totally serious about doing their
best; but they had fun even with the long days and hard work.
Now, with Gemini, Gem Twist's clone, they're fnding life very
exciting even though the primary reason to replicate the great
jumper is to continue the Bonne Nuit bloodline. They aren't
banking on Gemini dominating the jumper ranks the way Gem
Twist did, but as Mary quipped, "I certainly wouldn't turn it down
if he turned into a world beater."
Laura considers Gemini's future prospects; but he's just three
and still a bit of a baby. She stays grounded with three horses
she has going right now, Umberto, Valentia and Bradberry
whose specialty is speed, but occasionally they enter him in a
"Bradberry's first love is going fast – he's wonderful for
me," said Laura. "We have a great relationship. He's hot.
He's careful. He fits my style. He's quite a pleasant ride.
Valentia has a lot of ability, but sensitive. She takes a really
understanding and tactful rider. Umberto is a very well-bred
horse by Chellano. We got him last year in Florida. He's
careful but green and we spent time in the ring getting mileage
and this summer made strides forward and started jumping in
Hardworking, honest and down to earth describe the Chapots.
Excitement about the future gets tempered by the full quota in
their barn and so much going on: their time is spent schooling
and training, teaching and showing, bringing along young
horses and riders. Laura doesn't dwell on the team bronze she
earned with Little Big Man at the 2007 Pan Ams, but the fre is