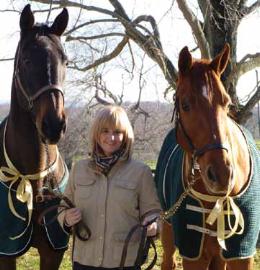 28 SIDELINES APRIL 2012 
FOR HORSE PEOPLE • ABOUT HORSE PEOPLE
SPORTS PSYCHOLOGY
Showing in the
Big Equitation
By Ann S. Reilly, Ph.D.
Over the last 26 years while I have been working with juniors
riders, the classes that have caused the most stress and anxiety
are the equitation classes--The Medal, Maclay, USET, and WIHS.
The juniors place so much more pressure on themselves in
the equitation classes that in some cases it has caused riders
to become overly critical of themselves, lose their confdence,
experience high levels of frustration and anger and genuinely
dislike riding. These "side effects" of the equitation classes are a
far cry from their purpose, which is to create effective riders!
Why the Stress?
The causes of equitation riders' stress varies. One factor may
be the perception that their body types are imperfect for equitation.
The reality is that riders who do not have perfect physiques do win
equitation classes and fnals.
Then there is the belief that they must ride more perfectly in the
equitation classes than the other divisions. These riders often
feel so pressured to be perfect that their positions become overly
stiff and they cannot fow in their horses' rhythm and relax while
The goal of qualifying for the national fnals defnitely causes
stress. Riders start questioning "if" they can qualify, "when" they
will be qualifed and create irrational "musts" about qualifying.
One junior rider I worked with for several years qualifed for the
Maclay Finals for her second time and the next day asked me
to support her when she announced to her parents and trainers
she was quitting the equitation for the remainder of her junior
career. We discussed the reasons for her choice and her number