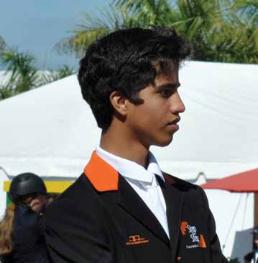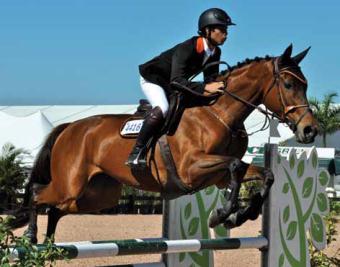 54 SIDELINES APRIL 2012
FOR HORSE PEOPLE • ABOUT HORSE PEOPLE
By Sydney Masters
Like many young riders in the show ring today, Jose
Fernando Bonetti, or "Nano" as he is known by friends
and family, has been obsessed with horses since he can
remember.  But unlike many of his peers, the 14 year old
took a round about route before ever entering the jumper
ring.  Hailing from Santo Domingo, Nano began riding at
the age of three; but didn't post the trot for years to come. 
Instead, he was sitting straight, tall and still in the saddle
putting Paso Finos through their rapid, cadenced, four-
beat gait in international competitions.
 Nano decided to take his riding in a new direction at
10.  Without telling his parents, he saved his allowance
and signed up for fve jumping lessons at a nearby
stable.  Despite some initial protests from his father,
Carlos M. Bonetti, Nano began showing exclusively in the
jumpers, racking up ribbons and receiving the high point
championships in the Campeonato Nacional de Salto in
2010 and Liga Ecuestre Dominican and Compeonato
Last year, his mom, Ingrid Sabater, sought out
trainer Hector Florentino at Stransky's Mission Farm
in Wellington, Florida. Since then, Nano has been
successfully competing in the Children's Jumpers on the
A-Circuit aboard his mare Light. In addition, the honor
student has also become a supporter of the charity Step by
Step and has been helping founder Liliane Stransky raise
awareness at competitions around the world from Palm
Beach to Puerto Rico to Paris.
A Different Route to the
Jumpers for Nano Bonetti
Sidelines:
  Why didn't you tell your parents that you were
wanted to take jumping lessons?
JFB:
I was nervous because I didn't know how they'd feel about
me changing focus from the Paso
Fino; but I was beginning to get bored. 
I saved my allowance so I could take
fve jumping lessons and I loved it. My
mom found out by my third lesson.
She was okay about my decision; but
was mad that I had hidden my plans.  It
took my dad awhile; but now he's my
Sidelines:
  What do you think is your
biggest highlight and the low point, so
JFB:
At Paso Fino shows, you draw
your horse from a pool. When I
was 7, I won the "V Mundial Jinetes
y Amazaonas" in Puerto Rico, an
international championship, it was a
big deal.  In the jumpers, I'm proud
of it all.  Of course, winning my frst
jumper class at WEF was amazing and
consistently making the top 12 in each
class has been great. Last October,
I fell at a competition and broke my
arm. They couldn't put a cast on, so
I had to keep my arm still for 7 weeks.
I am right handed, so even doing my
homework was really hard, but staying
Jose Fernando Bonetti , better known as Nano
Nano Bonetti has been successfully competing in the Children's Jumpers on the
A-Circuit aboard his mare Light