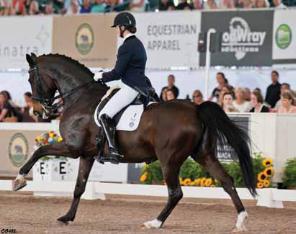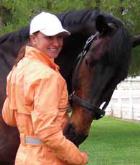 84 SIDELINES APRIL 2012
FOR HORSE PEOPLE • ABOUT HORSE PEOPLE
By Jan Westmark-Allan
Dressage rider Adrienne Lyle has a story that sounds
like a script for a made-for-television movie. A young girl
goes to a dressage farm in Idaho as a working summertime
student and ends up training with the legendary Olympian
The young girl goes back to college for one semester
but realizes her future is in the dressage ring and returns
to that same farm, Peggy and Parry Thomas's River Grove
Farm in Idaho. A year later Debbie gives the girl a chance
to ride and compete on an equally young horse and the
rest of the story unfolds as the young girl becomes a wizard
in the show ring, with her equine partner – aptly named
While the story sounds a bit too good to be true, it's
not only real but has taken 27 year old Adrienne on an
amazing journey that recently took her to the ultimate
dressage show – the World Dressage Masters. Adrienne
and Wizard, a 1999 Oldenburg gelding, showed the world
what they were capable of at the Masters in Wellington
when they won the Grand Prix Special and placed fourth in
the Grand Prix. While winning the Grand Prix Special was
an experience Adrienne will carry with her the rest of her
life, placing fourth in the Grand Prix behind Steffen Peters,
Charlotte Dujardin and Tinne Vilhelmson-Silfven certainly
was a monumental moment for Adrienne and Wizard.
"The Thomas's bought Wizard as a fve year old from
Egbert Kraak in Holland. Debbie gave me the opportunity
to start riding him in 2007 and we showed the Prix St.
Georges and Intermediaire I together. In 2008, we stepped
up to the Grand Prix level for the frst time, becoming the
2008 Brentina Cup Champions," Adrienne said, adding that
Wizard is not the type of horse to cozy up to strangers and
that she feels humbled and honored to have earned his
A Long Road
The pair did their frst grand prix test in 2009. "Neither of
us had any experience at the grand prix level and learning
together has been an amazing journey. Over the past six
years we have traveled all over the country, and the world,
and we are incredibly bonded now. What I like best about
Wizard, beyond his powerful athletic ability, is that he is
a very emotionally complex horse and you really have to
earn his trust and affection," Adrienne said.
While Wizard may be complex, he was born to be a star
and proved that at the Masters where he competed against
some of the best horses in the world. "Wizard seemed to be
right at home in the spotlight at the Masters, and I think he
proved himself to be a real contender on the international
scene," Adrienne said. "The highlight of our tests, for me,
was the harmony I felt with Wizard. He stayed relaxed,
happy and focused throughout both tests."
Adrienne is often asked what it's like to train with Debbie
McDonald, who will go down in the history books for her
outstanding success on the Thomas's mare Brentina. "I
have been with Debbie for seven years and I always tell
everyone she is my trainer, second mom, friend and role
model. Debbie is at the barn every day, helping me on the
Just Like Magic
Adrienne Lyle is a
Wizard
in the Dressage Ring
Thomas's horses. I think we have a great working relationship and
I continue to learn new things from her every day," Adrienne said.
"I love working with her because she is such a perfectionist and
has an incredible innate understanding of horses, both physically
and mentally. My goal as a rider has always been to emulate the
partnership and harmony she displays on every horse she rides."
More Goals in Their Future
Adrienne has another goal at the moment, and that is to focus
on the Olympic trials, which will be held in Gladstone, New Jersey,
the frst two weekends of June. "With this goal in mind, we made
the decision to go to Florida in the spring because it has a larger
number of CDI competitions to choose from. Our goal now is
to keep Wizard happy and confdent in the ring and continue to
improve his training so he will peak at the right time this summer,"
All the traveling from Idaho to Florida and then to New Jersey,
doesn't phase Adrienne. "If I wasn't a rider I think I would be
traveling the world, exploring different cultures and living like a
gypsy," she said. Sounds like another made-for-television movie
for the young rider who has proven to be a wizard in the dressage
Adrienne and Wizard at the
2012 World Dressage Masters
in Wellington. "What I like
best about Wizard, beyond
his powerful athletic ability, is
that he is a very emotionally
complex horse, Adrienne says
Adrienne and Wizard display
the trust and affection they
have developed over the years
Photo courtesy of Adrienne Lyle