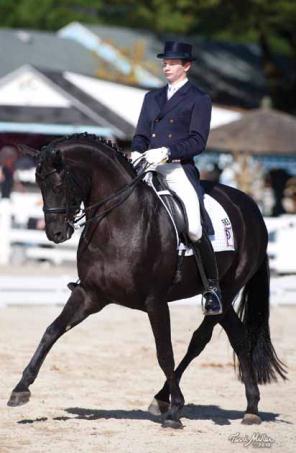 86 SIDELINES APRIL 2012
FOR HORSE PEOPLE • ABOUT HORSE PEOPLE
By Jan Westmark-Allan
Kevin Kohmann is a 23 year old dressage rider from
Timmendorfer Strand, Germany, who is happy to be
living in the United States. Kevin works for Cesar Parra
and has the good fortune to split his time between New
"I met Cesar through a mutual friend when he was
competing at Aachen in the World Equestrian Games in
2006. I knew almost no English at the time, but Cesar
was generous enough to offer me the chance to come
and work here in America. I was only supposed to come
for three months, and am still here almost six years
Kevin recently returned from Germany, where he was
working on the frst portion of his "Master's" program.
"The German title is 'Pferdewirtschaftsmeister' and the
program qualifes you to have your own business and
employ other people while training them to become
professionals. It is the highest certifcation Germany
offers for a rider. Not only were we tested extensively in
riding, training and teaching both dressage and jumping,
but also in psychology, horse care and business as well.
It's always been a goal of mine to earn the Master title,
as I think it will prepare me to be the best and most well
rounded rider and trainer I can be," Kevin said.
Sidelines:
How did your riding career start?
KK:
I started riding when I was 12 on a four year old pony
named Sally. I started out doing jumping and dressage
with Sally; but quickly realized that my passion was for
dressage. I was named North German Champion in the
Pony Division with Sally when I was 14 and by then I
was hooked. I decided to pursue riding as my profession
shortly thereafter and began working for Dieter Bruhn,
an Olympian in Eventing and the German National
Dressage Champion. I completed my Bereiter test when
I was 18, the youngest to successfully complete the
program in the history of Germany!
Sidelines:
What's the best thing about working and
KK:
He is always willing to share his knowledge and
experience and he allows me to ride and compete some
truly wonderful horses. Cesar is constantly bringing in
amazing trainers, riders and other equine professionals
from all over the world and he has really afforded me the
opportunity to learn from the very best in the sport.  He's
also been an incredible friend and mentor.
Sidelines:
What are your riding goals?
KK:
My beliefs as a rider and trainer are deeply founded
in the German Training Scale and I hope to continue
to cultivate and expand this knowledge as I develop
my riding. I love working with clients and seeing their
progression, whether they've just started riding or are
moving into the FEI levels. I also love the process of
training a horse, seeing how they develop and change
and really getting to know them. Personally, I hope
to eventually open my own barn here in America and
continue to compete and train happy, healthy horses in
Five Questions for Kevin Kohmann
Sidelines:
Do you like living in the United States?
KK:
Yes!  I love living here in the States. I think that dressage
is growing immensely and I'm really excited about where it's
headed. It's incredible to me, coming from Germany, that
there is such wide geographic and cultural variety here. Just
traveling from New Jersey to Florida every year feels like a
whole new continent. The people I've met here have been
absolutely amazing and it really feels like home to me!
Sidelines:
What do you think you would do if you weren't a
KK:
If I weren't riding dressage, I think I would be a large
animal veterinarian. I have a true appreciation and passion
for horses and always knew that my life would involve them
"I …love the process of training a horse, seeing how they
develop and change and really getting to know them," says