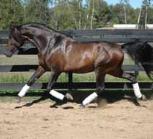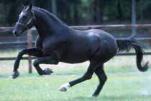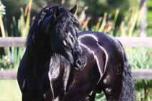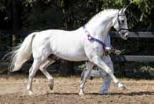 94 SIDELINES APRIL 2012 
FOR HORSE PEOPLE • ABOUT HORSE PEOPLE
STALLION DIRECTORY
Caballos de los
Cristiani Presents
Toltec TCV 4 yr. old Pure Spanish Stallion 16:2 H
Watch our entire stallion video collection at
Ph (352) 861-8265 email tveder@msn.com
Claire de LuneSE
7y Holsteiner Contendor/Largo/Alme
A Superstar producing champs
'09 BWP Bronze medal for Eventing.
2010 BWP Silver medal for Eventing.
Offspring: 2010 #2, #3, colts
#1 in FEH year end fnals 2010, 2011
ALOTA GATOR BAIT
Dr. & Mrs. Michael Kline, DVM
For more info: www.woodlandviewequine.com
Chaleon
Chaleon is one of the country's best hunter sires
producing correct, attractive offspring
with great movement and spectacular jump
winning at the top of the sport.
Farm Name: Crooked Willow Farms
Web: www.crookedwillowfarms.com
FABULEUX
(Fabriano/Augustinus xx/Absatz)
Elite Hanoverian Stallion, 16.3h
German test scores: 9s walk,trot,temperament
willingness to work; 10 canter. Proven sire.
Also standing Elite Hanoverian Stallions
Dacaprio (Davignon/Caprimond) and Liberty
(Lauries Crusador xx/Gimpel) All approved AHS,
GOV, ISR/Old, CSHA Bridlewood Farm - 859-
485-6000 www.bridlewoodhanoverians.com
Legacy's
Conquistador Del Sol
Sire/Dam: (Don Juan x Lolita)
16.2 hand Black PRE Andalusian
Conquistador is a true gentleman and has a
great disposition for the lateral and collected
work. Showing 4th, Debut PSG in Wellington
www.legacyfarmsofjupiter.com
Tempranillo
2000 17 hh imported KWPN by Calvados Keur
Out of Ilobria Keur Pref (Damiro x Transvaal)
Approved CWB Bronze Premium CSH
Competed 3rd level dressage 1.20m jumpers
Sires elegant, athletic offspring who move with a
lot of suspension and jump in phenomenal form
Standing at Klondike Victory Farm Alberta
See our whole line-up of 5 imported stallions at
www.kvf.ca 403-748-3070 stud fee $1,250 cad
Photographer Mary Cornelius
IDEAL
Inschallah/Zeus/Furioso II 16.2
1985 Approved Imported Oldenburg
The most successful producer of Premium Foals
in the entire ISR/Oldenburg history. Sire of
Dressage Eventing and Jumper Champions
For amateurs and professionals producing
consistent quality for 20 years
Stud Fee $1,100 LFG carol@ultimatepiaffe.com
www.ultimatepiaffe.com 503-638-7716 ph
Photo Kim Houghton
FLEXIBLE
Cruising/Flex/Safari 16 H
1996 Imported ISH Stallion
Pictured at 2010 Rolex FEI World Cup Final
Highest ranked Irish Sport Horse on the
World Ranking list for Show Jumpers
Breed to one of the few U.S. based Stallions
currently competing both Nationally and
Internationally. Stud Fee: $2,500
www.FlexibleGrandPrixJumper.com 503-638-7716
carol@FlexibleGrandPrixJumper.com