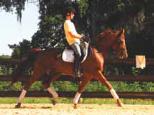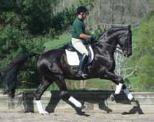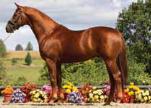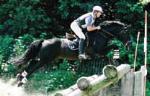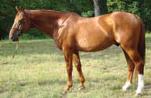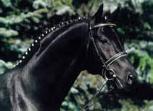 FOR HORSE PEOPLE • ABOUT HORSE PEOPLE 
SIDELINES APRIL 2012 95
STALLION DIRECTORY
Flamenco 9050
Flyinge Flamingo 481 x Lankella by Lansiar
1991, Chestnut, 16.1h, Approved
Swedish Warmblood Stallion.
FEI Dressage with scores in the 70s thru GP
Standing at Stud in Wellington
Fresh $1,500 Frozen $1,200
Contact Leif 561-762-9020
For more info and to see video, visit
www.freespiritfriesians.com
NORTH FORKS CARDI
Welsh Cob FEI & CDI Ch. Sport Pony, 14.3
1/2 hh Championships Training - Intermediaire
1, scores to 73%. At Devon he won Born
in the USA Stallion Ch., East Coast Series
Final Breeder's Ch. Stallion,  and RPSI Ch.
Stallion. Cardi is an ideal cross to produce
kind, trainable sportponies and sport-horses
with extreme suspended gaits. Approved
Weser Ems, RPSI, & NASPR. winterlakewelsh.
com & eqequestrian.com for video & foals.
Email Joyce Jones at
jjones@myacc.net
or call 954-796-1809
Bugatti Hilltop
Bergamon-Rubinstein-Donnerhall
1998 Hanoverian, 16.3H, Stud Fee: $2000
Received 9's on character, temperament, gaits &
rideability at 70-day test.  FEI winner, proven
sire with approved sons, Elite/Premium mares,
& show champions in-hand & undersaddle.
Contact
: Hilltop Farm www.hilltopfarminc.com
breeding@hilltopfarminc.com or 410-658-9898
UB40
2001 16.2 hand chestnut KWPN stallion
Winner Get of Sire Dressage at Devon, 2010
Sire of: Apache—KWPN Approved Stallion,
5 2010 KWPN-NA Top Five award winners,
and El Paso ISF, Champion Young Horse
Malachi
Malachi, 16.2-hand Approved Trakehner Stallion
Sire: Advocate *Ps* (Graditz *E*/Abdullah *E*)
Dam: Imported German Mare - best bloodlines
Competed successfully in jumpers, eventing,
CH/RES at many breed shows.
Sire was successful open jumper.
Stud Fee: $1,100. EVA Negative. Shipped
kim@looncreekenterprises.com
Valoubet
1998 BWP Belgian Warmblood Stallion
Galoubet A (Alme) x Feo x Ferdinand
Impressive pedigree. Successful jumper.
Extensive show record. Easy temperament.
Contact Carolyn at 281-734-9764
ESCUDO II
Espri/Arkansas/Woermann 16hh black Stallion
Hanoverian licensing Champion, Grand Prix
producer Super high breedvalue for type
Escudo was 2010 Hanoverian stallion of the
year. Top hunter and jumper producer with fancy
$1777 LFG – excellent conception rate
Approved Hanover, Oldenburg and more
www.rainbowequus.com (916) 645-1471
Pablo
Pilot/Matrox/Lancelot 16.2hh bay Stallion
Performance test Champion,
High breed value for type and jumping
Top hunter and jumper producer with fancy
$1977 LFG – excellent conception rate
Approved Hanover, Oldenburg and more
7 other stallions available
www.rainbowequus.com (916) 645-1471