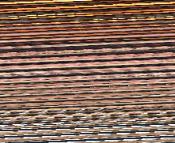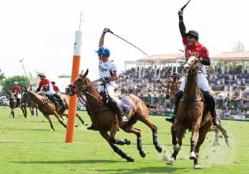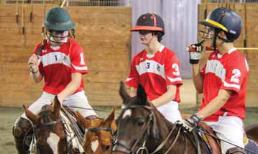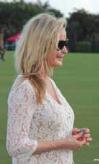 118 SIDELINES MARCH 2013
FOR HORSE PEOPLE • ABOUT HORSE PEOPLE
Heather Spitler,
Kris Bowman,
Don Delise
Samantha
Charles
Four Seasons Resort Palm Beach
"Polo
in Paradise"
packages. As the offcial hotel partner for the
International Polo Club Palm Beach, guests can choose
from three unique and luxurious polo experiences during the
2013 season. From the "Stay & Play with the Best" package
to "A Perfect Polo Picnic" to the "Ultra VIP Sunday Brunch
& Polo" experience – packages are available through April
21. To make reservations, call (800) 432-2335 or visit www.
fourseasons.com/palmbeach.
Gulfstream Polo Club
will be hosting the annual
Polo Pony
Sale
April 18-20 as well as the
Polo & Balloons
Natania,
undefeated so far in the USPA Interscholastic Open
season, scored their latest win, 26-8, over
Cornell
"The boys played well individually and as a team they did great,
feeding off each other," said
Travis Worsham
Wyatt Harlow
Kamran Pirasteh
Connor Deal
Drew Peterson
as alternate. Hopes are riding
high that Natania will win the Southeast tourney and a shot at the
national title held in March at the
Empire Polo Club
USPA Interscholastic team members
Natania
Connor Deal, Wyatt Harlow
Kamran Pirasteh.
Drew Peterson.
Photo Courtesy of Natania Farm & Polo Club
Natania Farm & Polo Club specializes in year-round polo with
indoor and outdoor arenas: fun, family-friendly, all amateur polo –
affordable from lessons to chukkers.
Team USPA teamed up with two other USPA programs,
Young
Player Outreach & USPA Umpires, LLC,
Umpire
Certifcation.
Kareem Rosser
Kylie
Sheehan
Matt Collins, Jeff Shuler 
Team USPA
 Julia
Smith
Loreto Natividad, Gates Gridley, Brandon Alcott,
Dani Wastey
Young Player Outreach
USPA Staff
Member, Justin Powers.
The students took to the feld/arena as
umpires at Palm Beach Polo Club, Gulfstream Polo Club, Grand
Champions Polo Club, Palm City Polo Club and
Mike Harris
along with USPA Head Umpire Instructor
Steve Lane
Bradley Biddle
Robert Lyn-Kee-Chow
them via ear pieces and side board chats.
Prestonwood Polo Club
has released its spring schedule for
the 2013 season, which kicks off with Polo on the Lawn Kentucky
Derby Day, Saturday May 4, one of the Dallas area's biggest
events of the year. The Preakness Stakes Cup will be May 18
and in June Prestonwood will host Polo for the Planet and the
Polo d'Elegance
place Saturday, March 23rd. This fabulous event will beneft local
desert charities. The event will be hosted by polo player and
Nacho Figueras. 
Doesyour barnor organizationhavenews, tidbitsor announcements
you would like to share in the Asides column,
dedicated to polo
news. It can be something as fun as a wedding announcement,
new horse purchased, upcoming clinics or exciting wins. Send to
editor@sidelinesnews.com
Bo Derek
getting ready for the opening coin toss
at the 10th Anniversary Season of the
International Polo Club Palm Beach.
The opening day festivities included
the 20-goal Herbie Pennell Cup in the
sports most beautiful polo stadium.
Kris Kampsen
Ali Solimine
Kris is currently playing polo in
Palm Beach and the couple lives
in Wellington. They have been