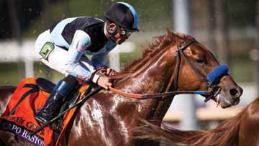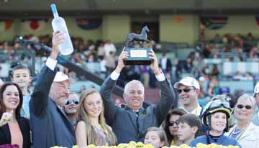 FOR HORSE PEOPLE • ABOUT HORSE PEOPLE 
SIDELINES MARCH 2013 143
their horse Shanghai Bobby.
Shanghai Bobby ended up winning the Juvenile Breeders'
Cup making him the two-year-old champion of the year. It was
a great celebration for not only the winning connections but also
New Vocations. To make things even better, Mrs. John Magnier,
Michael Tabor and Derrick Smith, who purchased half of Shanghai
Bobby prior to the race, also decided to participate and matched
Starlight Racing's pledge.
The Eclipse Thoroughbred Partners graciously pledged with all
three of their Breeders Cup contenders, In Lingerie, Tara From the
Cape and Capo Bastone. Zayat Stables also pledged with all three
of their contenders Justin Philip, Fast Bullet and Jaycito. The rest
of the list included Padua Stables and Richard Santulli with Dust
and Diamonds, Sisters in Racing with Romp, Klaravich Stables
with Sum of the Parts and Balance the Books, Siena Farms with
Summit County, Bradley Thoroughbreds with Watsdachances,
West Point Thoroughbreds with Belle of the Hall. James Covello
with Oscar Party, Off the Hook's Turbo Turbo Compressor,
Donegal Racing's Duhallan and Dr. DeNardo personally pledged
with both his partnership interest.
Trainers Kiaran McLaughlin, Eddie Plesa, Chad Brown and this
year's Kentucky Derby winning trainer Doug O'Neill were also
more than happy to support the pledge.
I'm happy to say that all the horses ran and came home safely.
Shanghai Bobby was our only winner; however, we had many
who came in second, third and fourth. When you are running for
millions of dollars just hitting the board is a great achievement and
all those small percentages do add up. We are already receiving
pledge checks in the mail and predict that we should raise close
to $50,000. I'm so grateful for all who participated this year. Every
dollar counts as the more money we raise the more horses we are
able to take which means more retired racehorses will fnd homes
Anna Ford, the Program Director for New Vocations Racehorse
Adoption Program, is a graduate of Ohio State University with a degree
in communications. In 2008, Anna published the book "Beyond the Track;
Retraining the Thoroughbred From Racehorse to Riding Horse," receiving
the American Horse Publications Award and nomination to the Dr. Tony
Ryan book awards. She sits on the Thoroughbred Aftercare Alliance Board
and is a member of the NTRA's Aftercare Committee. The New Vocations
"Beyond the Track" blog can be found on the Sidelines Magazine website.
One of the hardest things about the day-to-day happenings at
New Vocations Racehorse Adoption Program is raising funds to
run the program. Each year we have a goal to raise more funds so
we can help more horses. It hasn't been easy; but somehow we
have managed to reach that goal year after year.
We have several fundraisers throughout the year that I
encourage people to support; but one of my favorites is the New
Vocations Breeders' Cup Pledge, a fundraiser that began four
years ago. I wanted to create an event that would have little to no
overhead costs so that all the funds raised would go directly to our
mission to rehab, retrain and rehome retired racehorses.
The Pledge ft that criteria as there is no big event we have to
pay to put on rather the Breeders' Cup and the horses are the
event. A month before the Breeders' Cup event I contact owners
and trainers of contenders and asked them to pledge a percentage
of their potential earnings to New Vocations. The event has been
very successful and has raised over $150,000 in three years.
This year's pledge was a huge success. Thirty-nine
Breeders' Cup contenders had owners and or trainers that
supported the pledge. Our first pledges came from longtime
supporters Starlight Racing and trainer Todd Pletcher with
From the "Beyond the Track" Blog on the Sidelines Website
Big Win for Thoroughbreds!
Capo Bastone ran third in the Breeders' Cup Juvenile race for
Eclipse Thoroughbred Partners.
Photo by Eclipse Thoroughbred Partners
Celebration Time! Trainer Todd Pletcher, center, holds up the
trophy while Jack Wolf, left, of Starlight Racing holds the Grey
Goose after Shanghai Bobby's win.
Juvenile Breeders' Cup and
two-year-old champion of the