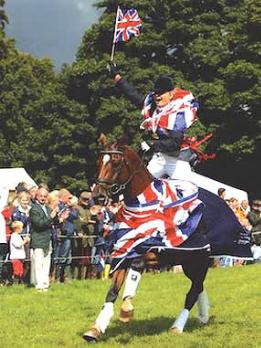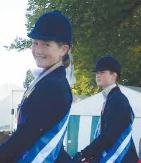 42 SIDELINES MARCH 2013
FOR HORSE PEOPLE • ABOUT HORSE PEOPLE
Sidelines Writer Across the Pond
Different countries have different methods of identifying and
nurturing future riding stars, ensuring that the crème de la crème
rises to the top and represents their country on the Olympic and
World stage no matter what their background. In the UK we have
a very exact regime. Initially children start off (mostly) in the
Pony Club and then move into affliated competition with British
Eventing, British Dressage or British Show Jumping where the
Pony Riders are recognised and the process of encouraging
talent begins. Some may think that the talent of tomorrow is 'hot-
housed' but ultimately the talent has to be focused and dedicated
in order to give Team GBR the best chance of medals now and
Laura Collett and Emily Llewellyn have been two outstanding
examples of how the system has begun to reap results and
produce the rewards for the country. Both young ladies came
through from the initial Pony Club Levels and into the BE system
in their very early teens and are now contesting the world's best
at the very top level of three-day eventing. Whilst representing
their Pony Clubs they were also competing on the international
European stage, gathering experience and learning how to deal
with pressure at a huge level. This has contributed to them being
cool and focused now. It is a delicate balance that has been
achieved by working with the Team Selectors, Chef d'Equipe
and trainers. They have developed amazing competition maturity
thanks to their experiences and their mentors.
 It may be alarming to the USA that we positively encourage our
children to launch themselves at the equivalent of CCI** fences,
both in size and technicality, aboard 148cm ponies and that we
are not more careful with our offspring, but there is something
inherently British about this. The 'gung ho' attitude must stem from
the hunting feld! Certainly there are many adults who would baulk
at the fences that these 13-year-olds are jumping, even if they
were aboard a steady and seasoned 16.3hh Intermediate event
horse with a proven track record.
 As well as offering regional training and competitions dedicated
to all under 18 eventers, show jumpers and dressage riders,
the relevant organisations also run the Pony, Junior and Young
Rider programmes. These programmes deliver a framework of
competition for riders who are aiming to be selected to represent
Great Britain at their respective European Championships. For
example, the British Eventing programme is run for riders between
the years of their 12th and 16th birthdays riding ponies between
142cm and 148cm (14hh – 14.2hh). 
The Pony Programme is both a competition and training
programme designed to produce a team that will represent Great
Britain at the European Championships as well as to coach and
develop riders for Pony Teams in the future. Competitions in
the Pony Programme are run at Novice Level with Intermediate
level dressage and it is a requirement that ponies and riders be
competent to compete at this level of technicality. At the age of 12
this is quite an 'ask' that many adults would shy from!
 Since this programme has been in place Team GB has enjoyed
consistent results and reaped many Team and Individual Gold
Medals, most signifcantly from the Eventers since 2004 and
2005. As with everything, it has taken time, but these former
children are now competing at World Level.  The investment of
time, money and effort has not been inconsiderable…however it
About the writer: Maria Wynne has spent her entire life with horses and her family
background is steeped in them. She is a proud (single) Mum of the an adorable 4
year old son named Theodore Denman, who is named after the 2008 Cheltenham
Sienna Myson Davies riding Tambourine at The European Junior
Three Day Eventing Championships in 2008 where she claimed
both Individual and Team Gold Medals. Sienna had progressed
through the Pony ranks winning medals and is currently on the
World Performance programme.
Photos Courtesy of Maria Wynne
Collett and Emily Llewellyn,
who have come through the
British Eventing ranks from
and Young Riders to enjoy
major international success
at Senior Level at CCI ****
would argue they have been
'hot-housed' by the system
to secure the future success