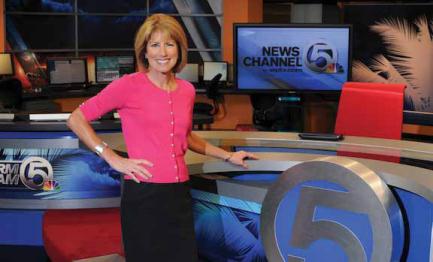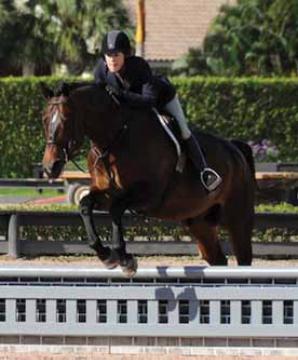 44 SIDELINES MARCH 2013
FOR HORSE PEOPLE • ABOUT HORSE PEOPLE
oxanne Stein may be a familiar face from West Palm
Beach's Channel 5 WPTV; but she is also becoming a
familiar face in the Wellington horse community. The
news anchor's lifetime love for riding and horses had humble
beginnings on a farm in West Virginia where she rode her dad's
Angus bulls every day until she got a pinto pony, Poncho. As a
teenager she showed her Quarter Horse/Thoroughbred cross,
Numbo, in local 4H events.
She continued riding on the equestrian team at Penn State
throughout college after which she took a hiatus from riding to
pursue her career as a newscaster. Now Roxanne is back to the
barn in her current hometown of Wellington, Florida. After 30 some
years out of the saddle, Roxanne is snatching up championships in
the medals and equitation ring at Palm Beach County Horseman's
Association shows and will be showing at the Winter Equestrian
Festival for the frst time this year.
Roxanne rides a large bay Hanoverian, Bamboo, who
competes under the show name Eternity and "considers bucking
to be rude." Roxanne and Bamboo are a part of the Palms Stable
family that includes trainers Rosemary Bertin, Wendy Ballard and
owners Kelly and Mike Wiener. Given the opportunity, Roxanne
will happily gush about her mutual love for Bamboo; her exciting
return to riding in the show ring and on the trails; the professional,
accommodating and friendly environment at the Palms Stable;
and her best friend and soul mate from her teenage years, Numbo.
Roxanne spoke with Sidelines about her career in broadcasting,
her time at the barn, and the things she loves. This is what she
What is your idea of happiness?
Spending time with my husband, Steve Moss...playing with our
kitties, riding Bamboo and covering breaking news. Friends will
tell you I'm a pretty happy person because everything around me
makes me happy - my hubby, my job and I'm riding again!
What is your favorite memory with horses?
Waking my father EARLY Sunday mornings in West Virginia,
I was only 7 or 8, asking him to ride before church! He would
eagerly jump out of bed and we would go on a long ride and he
would let me canter! He would say, "We won't ride before church
- we'll ride and CALL it church!!"
And I have to mention my best friend and soul mate from
my teenage years to early adulthood - my Quarter Horse/
Thoroughbred Numbo. Just a horse; but he was everything to me.
A piece of my heart went with him when he passed away at the
Roxanne Stein and Eternity showing.
News Anchor is Back in the Saddle