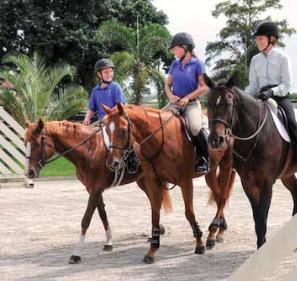 FOR HORSE PEOPLE • ABOUT HORSE PEOPLE 
SIDELINES MARCH 2013 45
Do you have a motto?
It ain't no dress rehearsal.
What do you love about the Winter Equestrian Festival?
What I love about WEF is it is just so unique to have a world-
class equestrian event in our own backyard! Not to mention the
Most interesting person you have ever interviewed?
Senator John McCain, Bob Hope and the everyday people who
go out of their way to help others.
If you could interview anyone, who would it be and why?
Walt Disney. Just genius.
What is the most unusual story you have covered?
Three Mile Island – 1979 - I was starting my career at WGAL
in Lancaster, Pennsylvania and got an anonymous call early in
the morning that something had happened. Our home wasn't far
so we evacuated. Of course, covering the events of September
11th was challenging and the 2000 election debacle in Florida
What talent or skill would you most like to have?
I wish I could ice skate really well!
What are your top 5 favorite songs on your iPod right now?
Anything by Adele, then I go to the 60's and 70's!  Allman
Brothers, Eagles, The Beatles, Bruce Springsteen and Harry
Chapin (I know, that's six!)!
About the writer: Alessandra Shultz grew up in the mountains of
Colorado, but now lives in upstate New York where she is studying
Apparel Design Management at Cornell University. She currently
has two mares which she trail rides and shows in the jumpers.
Photos: Photos courtesy of Steve Moss Photography
Carson Wiener (left), Whitney Ballard and Roxanne Stein head
out to ride on one of the many trails around Palms Stables.