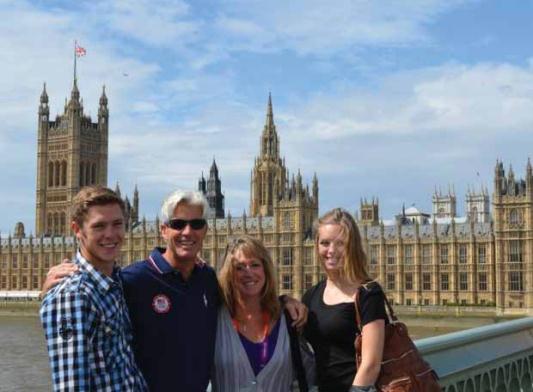 64 SIDELINES MARCH 2013
FOR HORSE PEOPLE • ABOUT HORSE PEOPLE
Often known as the son of a famous father, Chris Fellers, of
Wilsonville, Oregon, is starting to establish himself as a successful
rider in his own right. The talented young equestrian of 21, who
attends Linfeld College and studies Business Management,
started riding as a child; but took some time off and only returned
Chris credits much of his success to the training he's received
from his parents - Rich, a member of the U.S. Team at the 2012
London Olympic Games and the current FEI World Cup Champion
and Shelley, herself a successful Grand Prix rider. They have
trained their son for his whole career and beam with pride with
each new success he achieves, such as when he won the North
American League's (NAL) Adult Amateur Jumper Division at this
year's NAL West Coast Finals, at the Las Vegas National Horse
Tell us a little about what it was like last year with your father
winning the World Cup Final and going to the Olympics?
Really, it was beyond awesome. Both my parents have always
put our family frst, and if it meant passing up opportunities to
make a team, so be it. This year it all came together for my Dad
and it was just an amazing experience. We all got to share it and
it's something I'll always remember.
What's it like training with your parents?
Not surprisingly, I have been riding with them my whole career.
Although they are my parents, they have been incredible show
jumping and life coaches. I think one of the most important things
I have learned under my parents' instruction is that in order to
succeed you must develop a high level of mental toughness and
discipline. In life and in show jumping, there are many instances
that require one to remain calm and perform a task under
pressure. Riding with my parents has been an incredible asset
that has aided me in improving this area.
Tell us about your horse?
Cascade or "Casey" as we call him in the barn, was the frst
horse I ever seriously rode. A few times in my life I had been on
a horse's back; but in the summer of 2010 I decided I wanted to
ride and my parents decided Casey could be a good match for
me. He can be a diffcult horse at times; but for the most part he
is an awesome teammate. He understands his job and when we
head in to any ring to compete I can tell he is very focused and
ready to do his best. I am very lucky to have him, because at only
7 years old, he was able to be a perfect frst horse. Although, as
he matures and my riding improves, I believe he is going to be a
horse that I can continue to move up with and be successful.
How often do you ride?
During the school year I try and make it out at least three or four
days a week and in the summers I am riding at least fve days a
What is your favorite thing to do when you ride?
I have always been a sports fanatic, so my favorite thing to
do has always been to compete; but I really enjoy all aspects of
riding. Growing up in a very competitive family has instilled this
drive in me and it is something that will carry me throughout my
The Fellers Family in London: Chris,
Rich, Shelley and Savannah
Photo courtesy of Chris Fellers
Son of a
Jumping
Man