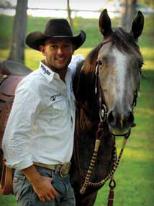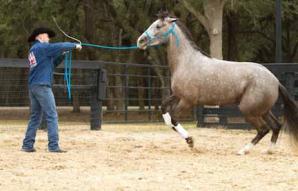 90 SIDELINES MARCH 2013
FOR HORSE PEOPLE • ABOUT HORSE PEOPLE
Question: How do I stop a horse from rearing? – Holly Adler
Answer:
If the horse is rearing while under saddle, we take this horse
back to the long reining training. Long reining is a safer option for
both horse and rider to work through problems. By working the
horse in long reins we are able to maintain contact with the horse
using a lunge whip and asking our horse to continue with forward
movement. If your horse is rearing from ground control, we would
start back at the beginning of our ground control training, asking
the horse to laterally give to the left and right, then moving
his hindquarters will help solve this problem.
Question: What should I focus on in a horse's frst few
rides? – Holly Byrne
Answer:
Before beginning a young or green horse under saddle
we make sure that they are able to complete our ground
control and long reining training and then we're confdent
that the horse is ready to take contact, walk, trot and canter,
left and right and into some basic leg yield in our frst few
rides. When we focus on the frst couple of rides we look at
how the horse softens in the bridle, understands the bridle
cues and we expect to be able to walk, trot and canter
circles in each direction.
Question: How do I gain trust from a previously abused
horse? – Joy Hill
Answer:
Joy, I understand this is a diffcult situation and appreciate
the fact that you care enough to spend the time and patience
loving this horse. Trust comes from respect, understanding and
leadership. If your horse doesn't respect you then it's time to
go back and set the ground rules, once you have respect you'll
gain trust. One option is to seek local, professional help to avoid
unsafe conditions. What we would do is go back to the very basic
exercises of our ground control. These exercises will help you
gain obedience from your horse. Once the horse understands
that you are the leader in the situation he will be able to trust you
knowing that you're not going to hurt or punish him. At that point
there will be a mutual understanding of trust and respect for both
you and your horse. Good luck.
Question: How do I make my flly stop biting me? – Donna
Bruce
Answer:
Donna, try taking a page from the animal kingdom and watch
how horses curb biting in a group situation. Imagine if your flly
was treating her mother the same way she treats you, the mare
would quickly put a stop to it by pinning her ears, lunging at her
or kicking her. The amount of force that the flly will need will vary
with each horse, look at the signs and read your horse based on
how she reacts to your actions. Begin by walking at her when
you feel as if she's going to bite. I'm sure that taking a few steps
in the direction of treating her more as a horse would shows her
that you're the leader in this situation and the problem will soon
Photos courtesy of Double Dan
Dan James
was born in Queensland, Australia on a small cattle farm. Dan began his lifelong passion with horses at six weeks old. The family milking goat would suffce
until he got his frst pony. Starting his frst colt in his early teens sparked his hunger to understand more about the horse's thinking patterns and Dan began traveling the
world to gain a better understanding of horses. In 2008, Dan joined his good friend, Dan Steers, in Western Australia at El Caballo Spanish Horse Centre where they
performed together each weekend in the "Dan and Dan Show" developing their horsemanship techniques. In 2009, they relocated to New South Wales and Double
Dan Horsemanship was born. Dan was recognized as a world-class colt trainer when he won the "Way of the Horse" at Equitana Asia Pacifc and in 2012; Dan wowed
judges again with his incredible training techniques winning the coveted Road to the Horse International Colt Starting World Champion title. For more information visit,
doubledanhorsemanship.com.
If your horse is rearing while under saddle, take
the horse back to ground work.