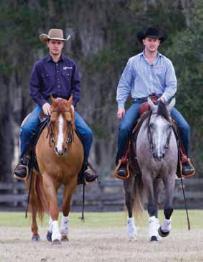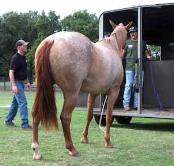 98 SIDELINES MAY 2013
FOR HORSE PEOPLE • ABOUT HORSE PEOPLE
we put the bar across and put the bolt in he backed up! My
nine year old is devastated that she can't get her new pony to
Pony Club. Thanks. -- Sharon McGeough
Answer:
Sharon, it sounds like the best place to start is with Ground
Control exercises. With Ground Control training we're looking for
the horse to make the decision to frst move forward, and then
stand still. The frst thing to work on his forward movement; when
you get to the ramp, tap him with a whip until he takes a step
forward. Let him take a step back as long as you continue to tap
him, even if it takes 10 or 20 meters. When he decides to move
into the trailer be sure to stand out to the side, trying to stop him
by standing behind could be very dangerous. Best of luck! – Dan
Question:
I have a question about my little yearling Arabian flly.
I cannot wash her! She is good to brush, pick up feet and
stable but I have to sponge bathe her and that isn't really
ideal, I've tried a few things, but if she cannot get away by
running or breaking the lead rope then she will rear and or fall
over. Please help! -- Dana Royal
Answer:
Dana, if you're having trouble with your yearling being afraid of
the water then make it rain. Begin by pointing the water into the
air letting it fall down on her like rain until she stands comfortably,
then slowly lower your hand until you're able to let the water run
over her. You'll notice that when she's comfortable with the water
she will learn to lower her head. If you're holding onto her it may
be a good idea to take her through Ground Control so she doesn't
put you in harm's way by trying to get away. – Dan Steers
Question:
I have a Warmblood gelding who, at age 15, still cannot
keep his canter true, nor is he able to pick up his right canter
lead most of the time. I have done countless haunches in
exercises (he's quite athletic so it is easy for him) and plenty
of balancing exercises. He's physically ft enough and has
fantastic confrmation. He has no soreness preventing him
from being able to do it, please help! -- Erica Filson
Answer:
Erica, if you're comfortable riding him in open spaces then one
good option is to take him out of the arena and do some hill work,
begin by cantering up and down the hills. If possible try cantering
through some trees, weaving in and out. At this point, if he picks
up the wrong lead just let him continue. The most important part
of this exercise is to teach forward movement and obedience to
what is being asked. Once you have established obedient forward
movement then you can take some time to refne the cues and
Question:
Hi guys, I am hoping you can help. We have just taken on a
17-year-old Welsh cross pony (13hh) for my daughter as she
has outgrown her frst pony. He had a trailer accident when
he was younger so it has been diffcult to load in the past. I
brought someone in to help me and we managed to get him
loaded within 50 minutes. Natural horsemanship techniques
worked well to a point. We got him on the trailer, but the
trouble came when it was time to close the back. As soon as
Questions Answered
About Double Dan: Since their debut as "The Dan and Dan Show" in 2008, Double Dan
Horsemanship is quickly becoming a household name in the equine industry. The duo
have been noted for performing at every major Royal show in Australia and many large
equine events in the United States, earning championships at the "Way of the Horse" at
Equitana Asia Pacifc in 2008, Road to the Horse International 2012 and the Mane Event
2012 Trainer's Challenge. They have been crowd favorites in the opening ceremonies of
the World Equestrian Games, Australia's Got Talent, Australian National Cutting Horse
Futurities, Equine Affaire and many others. As one of the hottest-selling equine acts in the
industry, they continue to expand their horizons.