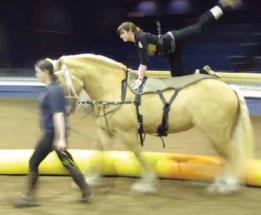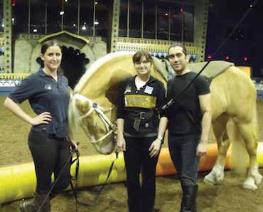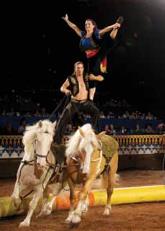 FOR HORSE PEOPLE • ABOUT HORSE PEOPLE 
SIDELINES MAY 2013 103
Behind The Scenes
Part of the Performer For A Day package means you not only
get to work with the trainers during the afternoon, you also get to
be in the show. Since Abby has show business in her blood, I let
her take part in the show and I sat in the audience with my brother
and his family. But before they whisked Abby away for makeup
and wardrobe, they took all of us to the barn to meet the horses
and see the inner workings of Arabian Nights.
Charlotte led this part of our experience and if you are true-blue
horse person then you will love this part. Each time we approached
a stall (and there were about 60 stalls with horses) – each horse
greeted Charlotte with enthusiasm and loved all over her. She
didn't have treats either – just a genuine love for all her equine cast
members. She introduced us to the three Black Stallions who are
in the show (the name of the show is The American Princess and
it's the story of an American girl who discovers she's a princess
and of course she has rides a Black Stallion and the prince rides
a…I'm not going to spoil it for you – but you can probably guess
if you know your fairy tales. Hint: We are in a magical city and
really wasn't a stallion.
really are stallions. "Go
three gorgeous black Arabian stallions, the show has a herd
of Arabians that are all part of the same family, the Al-Marah
Arabians. The show was founded by Mark Miller about 25 years
ago as a way to showcase his family's horses, which have been in
his family for over 70 years.
Performing In The Show
When you are a Performer For A Day you also get to take part
in the VIP experience in which guests come early to meet the cast
and the horses in the show. Abby, dressed in full costume, smiled
and posed for photos and before I knew it she was riding a draft
horse in the show, the spotlight shining on her, waving, smiling
and looking like she belonged.
Abby also danced with the other cast members during the
number in which Ricky showed off his acrobatic prowess on
the back of a draft horse (with no harness – yikes!) and even
somersaulted through the air from one horse to the next at a
canter. From my seat in the audience it looked so easy – but easy
The Arabian Nights performance is a blast for horse lovers and
non-horse people as well, and one look at my nephew's faces
glued to the performance throughout the evening confrmed that
even surfer boys can enjoy a night of horses, have fun and not get
bored. The end of Arabian Nights is always a highlight, as they turn
a big group of horses loose in the ring and the audience gathers
round to watch the equine antics. My brother, a horse person only
by blood, was completely amused watching the horses having a
genuinely good time putting on their own show– rolling, frolicking,
kicking up their heels, biting and chasing each other around the
ring. He deemed it the "coolest thing" he had seen in a long time.
And I can add that being part of the inner workings of Arabian
Nights – from learning trick riding to meeting the cast and crew
and hanging out with the horses – was also one of the "coolest
things" I have done in a while. I am happy to say I can check
"riding bareback horses in a show" off my bucket list thanks to the
Performer For A Day experience at Arabian Nights.
To learn more about the Performer For A Day experience
at Arabian Nights in Orlando, Florida, contact Chad Hubner
at 407-589-2453 or chad@arabian-nights.com. He will fll
you in on pricing, details and will reserve your spot for this
experience.
Sidelines writer Abby Westmark works on gymnastic
movements as part of the "Performer For A Day" experience at
Photo by Jan Westmark-Allan
Arabian Nights trainers Charlotte Reynolds and Ricky Suarez join
Abby as she prepares for her adventure.
Photo by Jan Westmark-Allan
Performers in the Arabian Nights show keep the audience
Photo courtesy of Arabian Nights