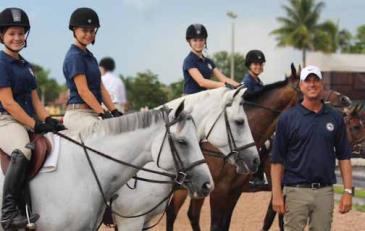 104 SIDELINES MAY 2013
FOR HORSE PEOPLE • ABOUT HORSE PEOPLE
Sean Jones: Holding The Reins
of The Palm Beach Riding Academy
r iginal ly f rom Ontar io, Canada, Sean Jones
spent his junior years showing. His hard work paid
off, and he emerged as a top young professional.
Thanks to his abilities as teacher, judge and course designer,
he was recognized by the Canadian Equestrian Federation (now
Equine Canada) as a certifed coach in 1995.
Sean relocated to Florida in 2001 to manage a busy lesson
barn, and while training and showing in Wellington he met his
wife Christina. The couple opened and ran a successful show
barn in Jupiter, Florida for nearly a decade. During this time Sean
was one of the frst to receive trainer certifcation by the United
States Hunter Jumper Association (USHJA), was the recipient
of the SFHJA Trainer Sportsmanship Award and his horses and
riders consistently brought home championships in each of their
Shortly after the birth of his daughter, Olivia, Sean accepted
the position of General Manager and Head Trainer at the Palm
Beach Riding Academy in Wellington. Sean brought his existing
loyal client base with him to experience the growth and incredible
opportunity of the new location.
When the Winter Equestrian Festival and Sidelines Magazine
partnered to offer an Exclusive Showing Vacation contest to
one lucky person, Sean provided the training and the horse for
winner Jack Lube. (See Jack's full story of his experience at WEF
and training with Sean in our June issue.) Sidelines caught up
with Sean during the Winter Equestrian Festival, where he was
constantly on the move: training, riding, teaching and – like many
trainers – running from ring to ring.
1.
What are you enjoying about being part of the
Palm Beach Riding Academy? 
We are part of the Wellington Equestrian Partners (WEP) and
Equestrian Sport Productions (ESP), which produces the FTI
Consulting Winter Equestrian Festival (WEF). Because of this
partnership, we have access to two world-class facilities and all
the resources that accompany them. Mark Bellissimo, my boss
and managing partner of WEP, has an incredible vision for the
company to increase exposure of our sport to the general public.
Through initiatives like the Great Charity Challenge, they have
raised over 4.2 million dollars for 75 local charities. Because of
our location and involvement with this and many other programs,
we are on the forefront of the evolution of our sport, as well as
giving back to the community. 
2.
What do you like about South Florida?
Obviously the weather is nothing to complain about. But having
easy access to the greatest horse show in the world is the biggest
plus for me. Contrary to popular belief, the weather here is
pleasant in the summer and we continue to horse show regularly
3.
What were the advantages of the Ride & Learn
clinics during WEF?
My favorite project with PBRA is our Ride & Learn clinic
series. We have access to the greatest riders and trainers in the
world. So, we decided to take advantage of this. Every Tuesday
afternoon during WEF, we hosted a different clinician in one of the
show rings, for anybody to participate. This year we had: Charlie
Moorcroft, Candice King, Geoff Teall, Sandy Ferrell, Brianne
Goutal, Shane Sweetnam, Laura Kraut, Kevin Babington and
Louise Serio. We also added a dressage session with Debbie
McDonald. All were very well attended, and provide access to
these great trainers for riders who wouldn't ordinarily have the
opportunity to train with them.
4.
What does the future look
like for the Palm Beach Riding
Academy?
Our focus is on developing and
mastering the basics. We have a
very structured, objective-oriented
curriculum in our lesson program and
just hired two wonderful new instructors,
Tom Matthews and Jessica Nichols, to
help lead us through these programs.
Together, we will continue developing
our riders as responsible horse people,
working to assist them in achieving
their personal equestrian goals and
show ring accomplishments. We will be
adding additional educational outreach
programs to our curriculum, and plan to
Sean and his students at the Palm
All photos by Christina Jones