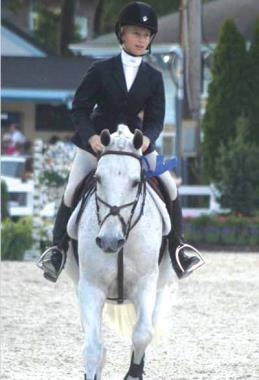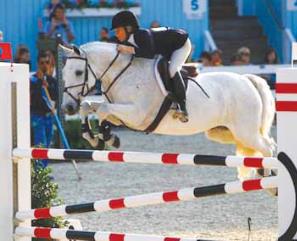 108 SIDELINES MAY 2013
FOR HORSE PEOPLE • ABOUT HORSE PEOPLE
As horse lovers, we spend our childhoods doodling horses and
cantering around the house. For most of us, this obsession is
amiably tolerated by our families. They politely smile and pretend
to understand when our idea of pleasant dinner conversation
consists of stories about lead changes and the cutest face
our pony makes for treats. They roll their eyes when they fnd
us surrounded by Breyer Horse statues, the course at Aachen
recreated on our bedroom foor using toilet paper for roll-tops and
pencils for swedish oxers.
This was not the case for 15-year-old Lucy Matz. Lucy's
father is the iconic Michael Matz, Olympic medal winner, now
Thoroughbred racing trainer. When Lucy played with Breyers,
and needed a consult on the course design for her mini-Aachen,
she could simply ask her dad, who just happened to have won
team gold there in 1986. Lucy's mom, D.D. Matz, comes from
a horse legacy of her own. Lucy's great-grandfather is Robert
Kleberg, founder of the legendary King Ranch, which sprawls
over 825,000 acres (bigger than Rhode Island!), and produced
1946 Triple Crown winner Assault, and Middleground, winner of
the Kentucky Derby and Belmont in 1950. D.D. had a successful
career in the amateur owner ring, and won her frst grand prix in
Wellington in 1991, at WEF's former locale, the Palm Beach Polo
Not surprisingly, given this family heritage, Lucy can barely
remember her frst ride. She made her showing debut in the
leadline at Devon at three, and has been showing ever since.
After a successful career with her medium pony Frostin, who took
her from Short Stirrup through the Medium Ponies, Lucy moved
up to the Large Ponies, landing a 7th place fnish at Pony Finals
In 2010, Lucy started doing the Pony Jumpers with Wiseguy,
an Irish-bred Connemara who was originally shown by her older
brother Alex. This little frecracker's all-business attitude makes
the Pony Jumper ring look just like a scaled down grand prix feld.
The pair won the NAL Pony Jumper Classic in the Dixon Oval
in 2010 and fnished second in 2011. While 2010 was lightning
fast, the 2011 round is much more polished, minus the bucks and
bobbles. When asked which she liked better, Lucy said while it's
nice to win, she was happier with her 2011 round where Wiseguy
was "extremely good" and she rode a bit better. To see both
rounds, visit the "Tucker the Wunderkind" blog on the Sidelines
website – and you'll see what Lucy means.
After talking with Lucy, it is easy to see how horses are woven
into this family's fabric. Her mom is an avid foxhunter, along with
Lucy and Alex. Lucy's younger brother, Robert, just started riding
last year and will likely join them on the hunt as well. Lucy's parents
mainly ride for fun now, and help keep all the family's horses in
work. Can you imagine having Michael Matz in the family if your
Victory gallops run in the family - Lucy and Wiseguy take a
Growing Up Matz
Horses Don't Just Run in the Family, They Gallop!
Lucy and Wiseguy in the NAL Pony Jumpers at Devon in 2011.
Continued on page 110