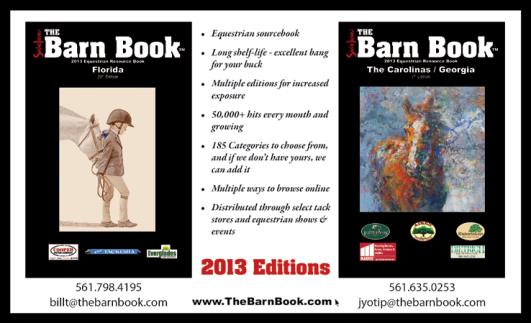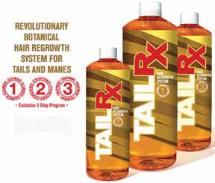 FOR HORSE PEOPLE • ABOUT HORSE PEOPLE 
SIDELINES MAY 2013 109
TAILRx is an innovative category of hair care treatment for all types of
hair. It is a simple three-step professional treatment regimen developed
to address the underlying problems that affect your equines mane or
tail growth. Lack of growth for all types of hair lies at the root of the
problem. Mary Brunetti, a well-known hair stylist created the products
to address the issues she has confronted as a hair care professional and as
a horse owner. Years of research have culminated in a very easy-to-use
product line that provides great results.
TAILRx products are formulated for performance, using the most
advanced biotechnology with ingredients derived from selected
botanicals to restore, strengthen and nourish the hair follicle and to
encourage new hair. The three-step regimen works together to unclog
and cleanse the follicles strengthen the hair and re-energize circulation
to ensure better quality hair growth.
At the base of every follicle is the dermal papilla, a vital structure for
instigating and directing hair growth. Located in the hair bulb, along with
the matrix, the papilla contains tiny blood vessels that carry nourishment
to hair. Hair is 90% protein, made of a particular fbrous protein called
Keratin. The healthy fow of blood is essential to feed the cells that
form Keratin. Therefore it is important to keep the circulation fowing
to the roots of the hair through exfoliation of the scalp. By eliminating
the natural debris of dead cells and sebum, TAILRx clears the way for
stronger, healthier hair growth.
Step 1 -- Cleanser Shampoo. Cleans deep down and helps
to exfoliate the hair follicle which in turn helps to increase
circulation and allow the hair to grow out stronger and cleaner.
Step 2 -- Snap Proof Strengthener. Helps to improve the strength to
The Secret To A Beautiful Tail
the hair by penetrating the hair shaft, imparting moisture, generating
elasticity and volume to the hair. This step can be used alone as
well, once the initial 3-step routine has achieved the desired goals.
Step 3-- Leave-In Treatment. Helps to leave the added softness and shine
to the hair as a fnishing step.
TAILRX helps protect hair against color fading, improves shine,
resiliency, elasticity and encourages healthy fullness.
The RS Bioceuticals motto "Innovation thru Collaboration™"
is based on recognizing the value and importance of relationships:
"Knowing what we know and knowing what we don't," say founders
Jim Ruder and Stacey Small, "allows us to use our manufacturing,
marketing, sales distribution and product development relationships and
experience to solve critical business challenges and build successful and
viable product and brand solutions for our clients." Don't go it alone.
Let RS Bioceuticals work with you. To learn more call 877-288-1760 or
visit www.rsbioceuticals.com