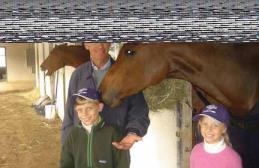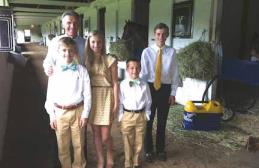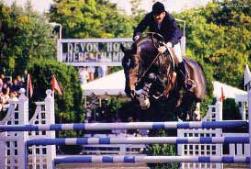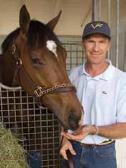 110 SIDELINES MAY 2013
FOR HORSE PEOPLE • ABOUT HORSE PEOPLE
Lucy's dad may be an Olympic champion and a famous
racehorse trainer, but to her he is still Dad!
Photo courtesy of Michael Matz
The Matz family gathered together at the backstretch on
Photo courtesy of Michael Matz
Michael and Judgement competing in the Dixon Oval.
Photo courtesy of Michael Matz
horse needed a good school? Then again, when asked what it's
like to have an Olympian for a father, Lucy says he's fun to be
around and at the end of the day, like any other kid, she just thinks
Unless you've been living under a rock for the past few years,
you know that Lucy's dad made quite a splash in the Thoroughbred
racing world. Lucy admits that with a busy show schedule and the
demands of school, it's hard to get up early to go to the track, but
she enjoys going. Lucy and her siblings were part of the cheering
squad when Barbaro and Union Rags made their respective bids
for the Triple Crown. With a giggle that tells you she must have
asked at least once, Lucy confdes that her dad has never let her
ride any of the race horses.
At this year's Winter Equestrian Festival in Florida, Lucy has
Olympic Show Jumper and Racehorse Trainer
Michael Matz has had a brilliant career as a show jumper,
described by many as a "natural" in the saddle, and has
made headlines in the Thoroughbred racing world. His
career highlights include:
Competed with the U.S. Show Jumping Team for the
1976, 1992 and 1996 Olympics.
and four bronze medals at
United States flag into Centennial Olympic Stadium at the
Closing Ceremonies of the 1996 Games, in recognition of
the heroism he showed during the crash of United Flight
232, where he returned to the plane to rescue the four
children seated beside him.
Inducted into the Show Jumping Hall of Fame on April
Trained Barbaro, winner of the 2006 Kentucky Derby.
Trained Union Rags, winner of the 2012 Belmont Stakes.
Michael and Barbaro pose for
Photo courtesy of Michael Matz
been working toward making a transition to the Junior Jumpers
with her next mount, a Dutch Warmblood mare named Whoops.
When asked about her riding goals, Lucy humbly says she hopes
to keep improving with this horse, but adds that it would be "really,
really cool" to go to the Olympics. The way Lucy says this makes
it seem entirely possible, and is reminiscent of a young Michael
Matz, who didn't even attend his frst opening ceremony because
he fgured he'd go every four years. With that in mind, it won't be
surprising to see Lucy on that platform one day.
About the writer: Marissa L. Quigley has been a fan of all things horses since
before she could walk, and competes in the adult amateur hunters. Marissa and her
horse, Tucker, live in New Jersey and take very good care of each other. For video
features and more on this story, including Lucy's NAL Pony Jumper trips, visit them
on the Sidelines website at http://sidelinesnews.com/blogs/tuckerthewunderkind/.