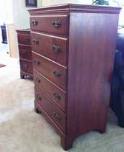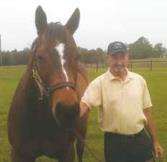 126 SIDELINES MAY 2013
FOR HORSE PEOPLE • ABOUT HORSE PEOPLE
Missed the deadline?
You can advertise on the website
Email: Classifeds@sidelinesnews.com
SIDELINES' CLASSIFIEDS
EMPLOYMENT WANTED:
"MARKETING INTERNS NEEDED AT
SIDELINES MAGAZINE
resume or college application and never leave
the horse show!  We are looking for outgoing,
motivated individuals to assist with distribution
at major horse shows throughout the US (and
Canada). If you plan on being at anAor AA show,
and can help get magazines from the show
offce to the show grounds, let us know.  We
will send you a Sidelines T-Shirt or sweatshirt
and post your photo on the Sidelines Facebook
page. Please email melissab@sidelinesnews.
OPPORTUNITY FOR SELF STARTER-
S
pacious barn 5 stalls avail. & more. 2br cottage
/ rent, 2 hunter/dressage rings , turnout, near
preserve,20 acres looking for INSTRUCTOR/
TRAINER to start thriving children's riding
program in Florida 6 min / WEF, 10 min / White
Fences. We have lesson horses & everything
ESTATE MANAGER/HOUSEMAN:
years experience. Wellington & Palm Beach
561-275-9898 Excellent References
AGENT/DRIVER FOR WELLINGTON, FL
Based Horse Transportation
Operation CDL Required Call: (954) 448-1044
FURNITURE FOR SALE
HORSES FOR SALE
DAVIDHOPPERINC
12501. Outstanding selection of sport horses-
from unbroken to competition ready. Hunters,
Jumpers, Dressage, Equitation. All prices,
ranges. David Hopper. Cell: 914-474-7175.
Barn: 845-373-8897. www.davidhopperinc.com
HANDSOME 18 H WHITE/GREY 12 YR-OLD
GELDING
: Shown Ariat and Adult medals in
with wins and top 2 placings at A shows. For
the last 2 years had been a solid frst fight
hunt horse with several well established hunts.
Consistent, schooling & quite ready for 3'6"
technical courses. Lovely mover $35,000.00
828-553-3885 for video information
6-YR-OLD
WELSH-TRAKEHNER
PONY GELDING BY SCHOPONI G
under saddle, 14.1 hands, $10,000. One each
two-year-old and three-year-old Trakehner
geldings by Malachi for sale, one bay, one black,
$9,000 each. Long yearling flly by Malachi,
bay, $7,000. Several top-quality Trakehner
broodmares for breeding lease on our farm, two
repro vet clinics near-by, reasonable lease rates.
Loon Creek Enterprises, Kim MacMillan, 260-
468-2392, kim@looncreekenterprises.com .
LEGAL SERVICES
PHOTOGRAPHY &
MEDIA SERVICES
MACMILLAN PHOTOGRAPHY & MEDIA
SERVICES
, Let us do your sale horse photos
and/or videos or family and horse/pet portraits.
Will do on-farm visits for half or whole day. $275
for half-day photography or $500 for whole-day
photography, plus travel expenses if beyond
100 mile radius from our home. Add $50 for
half-day videos or $100 for full-day videos. You
get all photos/video from the on-farm sessions.
Book now -our 2013 calendar is flling up.
Contact Kim MacMillan, Huntington, IN, 260-
468-2392 orphoto@looncreekenterprises.com .
REAL ESTATE
AIKEN, SC, POLO, HUNTING, AND EVENTING
20 ac., 4500 sq. ft. barn/apt on level bermuda
pasture, additional ac. available.
107 ac., pristine country prop., 2 stocked ponds,
95 ac. bermuda hayfelds, mature hdwds.,
25 ac., wooded barn and home site w/well &
septic, 9ac. bermuda grass, bal. open with
178 ac., 11/2 mi. road frontage, 80 ac. in
bermuda grass, bal. wooded, barn/apt combo,
15 ac., bermuda hayfeld,  hdwds at barn site,
adjoins established horse farms.
14 ac., cleared and in winter rye, hdwd trees,
50 ac., level bermuda hayfeld, will sell in 10 ac.
tracts or larger, adjoins 2 polo felds.
ALL TRACTS HAVE POSSIBLE OWNER
FINANCING CALL FOR PRICING AND
DETAILS Biddle Realty AIKEN, SC, POLO,
HUNTING, AND EVENTING MECCA OF THE
SOUTHEAST Inc., (803) 648-7874, email tom@
SERENITY HILL STABLES NESTLES IN
SOUTHEASTERN CONNECTICUT
mile down a private road surrounded by
800 protected acres never to be developed.
Working horse farm has 22 cleared acres, 7
fenced paddocks with 4-rail vinyl fence, 2-stall
barn and 14 stall barn including bathroom/
laundry room and six stall kennel. Totally
renovated 3000 square foot 4 bedroom house
includes 2.5 baths, large family and dining room
with raised freplace, chef's kitchen with Asko
dishwasher, Subzero refrigerator and Viking
double ovens and 6 burner stove, large master
bedroom with 2 walk-in closets and granite
bathroom with separate granite shower and
Jacuzzi tub. Located two hours from Boston/
New York City and 30 minutes to Long Island
Sound beaches and marinas and 40 minutes
to Bradley International Airport. $1.100.000
860-887-1468 sandra860k@aol.com
SOLID WOOD, TONGUE & GROOVE
CONSTRUCTION.
for spare or kids bedrooms. TWO full sets,
bureau & chest of drawers.  Other slightly
darker wood with brass handles. Call for
great rate 954-796-1809 or email jjones@
THOMAS NICHOLL LAW FIRM
who also practiced Equine Veterinary Medicine
for over 20 years. Knowledgeable all aspects
equine industry 407-228-2131   tom@