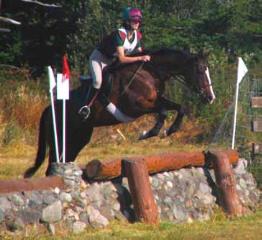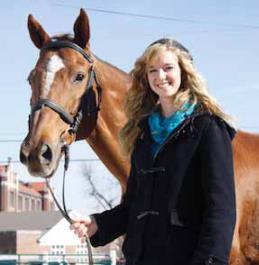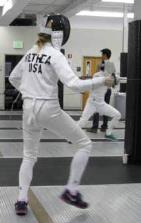 66 SIDELINES MAY 2013
FOR HORSE PEOPLE • ABOUT HORSE PEOPLE
Petra Bethea has always been the athletic type. At four years old
she started riding on her Shetland Pony, Piccolo – who doubled
as a bucking bronco – later to graduate to retraining and selling
racehorses with her mom. In elementary school, Petra and her
best friend competed in 5K runs "just for fun" without any training.
Today, Petra continues to ride and run, but she has added a
few more sports into the mix – swimming, shooting and fencing.
That's because Petra is a modern day pentathlete.
And while she's certainly increased her training since she was
in elementary school, she still maintains a laid back attitude, a
personality trait she says she gets from her dad. "I think the only
way I can do this stuff is because I don't get stressed about things
and it makes it easier," she said.
Whatever she's doing must be working because Petra was
selected to compete in this year's Pentathlon World Cup, which
was held earlier this year. In order to qualify, she had to place in
the top ten of two national qualifers held at the Olympic training
center in Colorado. "I was really excited and relieved that all my
hard work and training had paid off. I found out about a week after
the last qualifer and about a month before worlds."
Petra began competing in tetrathlons – a shortened version
of pentathlons that doesn't include fencing - in middle school
through the Pony Club. "I didn't really train for the frst tetrathlons,"
she said. "Mostly I would do it and hope to survive." Today, she
trains almost every day – all while working towards her bachelor's
degree in equine science at William Woods University in Fulton,
She takes fencing lessons twice a week; participates in the
WWU track team and runs every day; practices shooting in her
room with a laser gun; swims several times a week and rides in a
She says her greatest advantage is knowing how to ride.
"When someone who doesn't know how to ride is jumping 3'3"
it isn't always pretty," she said. "The thing is when you're doing
a pentathlon ride, there's not much emphasis on how pretty you
ride. It's more learning to hang on to whatever you're on so most
pentathlon riders are able to stick on anything, but they don't
always look great when they're jumping."
Now having competed in the 2013 World Cup, Petra has her
sights set for the next World Cup and, one day, maybe even the
Olympics. "After competing with all the Olympic athletes from
around the world, it made
me see that it really is an
just taking life one step at a
riding and I'd also like to do
track coaching just because
I love doing it," she said. "I'd
really love to have my own
to train [for the Olympics] if
it becomes a possibility to
go. For now, I'm just trying
About the writer: Dani Moritz is a
senior at William Woods University
and is a writer/producer and creative
director for RateMyRiding.com. She
is also the 2012 American Horse
Publications Student Award Winner
and a staff writer for Sidelines
Petra riding cross-county at the Whidbey Island Three Day
Photos by Stephanie Bethea, unless noted
Modern day pentathlete Petra Bethea with Dillon, a school
horse at William Woods University.
Petra fencing at the Junior
Nationals at the Olympic training