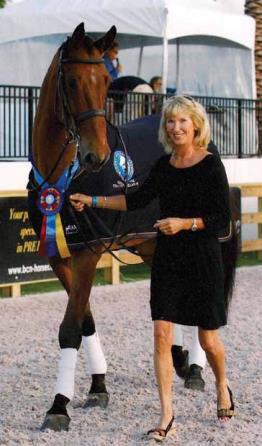 FOR HORSE PEOPLE • ABOUT HORSE PEOPLE 
SIDELINES MAY 2013 87
moving them on to a new rider, and starting all over again.
You compete in Florida and also at Dressage at Devon. What
is the energy like at Devon?
I think Devon is one of the most fun horse shows of the season,
the atmosphere and energy is always terrifc, the footing is great
now in all the arenas, even if it rains, and of course, freestyle night
is always a full house and action packed. It is also such a big
breed show, so it's fun to get there early and watch.
Do you have a motto?
You can sleep when you're dead!
What is your greatest extravagance?
I love to travel! I am looking very forward to a trip in May with my
daughter and one of my good dressage friends and her mother.
We are starting in Turkey and ending in Spain. I love good food,
good wine and good company. Can't wait, but I will miss my
About the writer: Heide Middlebrook resides in South Florida and has extensive
equestrian experience specializing in the felds of dressage and show jumping.
Kathy and Cayman V at the Global Dressage Series in
Photo by SusanJStickle.com