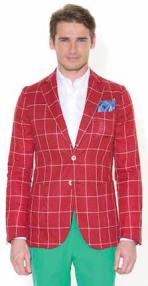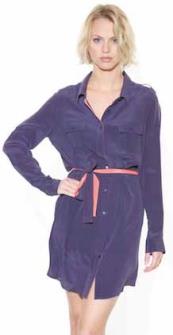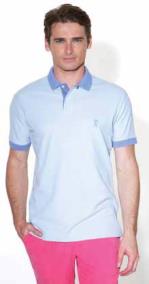 88 SIDELINES MAY 2013
FOR HORSE PEOPLE • ABOUT HORSE PEOPLE
Vicomte A.
"Differently Elegant" Styles
You had me at Pippa Middleton,
Vicomte A. This Paris based uber-prep
brand epitomizes Pippa's blend of sassy
sophistication and accordingly has
outftted the Duchess of Cambridge's
sweet n' spicy sister. Beyond the in-law
of British royalty, Vicomte A. also equips
the French polo team and the Brazilian
equestrian team and has a presence at
elite sporting events across the globe in
equestrian, golf, tennis, vintage motor
racing, sailing and yachting sports.
international pret-a-porter
clothier's storefronts reside at some of
the most prestigious addresses in North
and South America, the Middle East,
Africa and Europe. Naturally I wondered
where could I get ahold of this "differently
elegant" attire. Happily I discovered that
Vicomte A. is available in Florida at the
Vicomte A. lifestyle store located at 150
Worth Avenue, Suite 110A, in Palm
Beach, at Elegant Polo in Wellington,
the Pro Shop at Palm Beach Polo Golf
and Country Club and Nordstrom stores
in Naples, South Florida and Scottsdale,
The brand is steeped in aristocratic
infuence. The name and logo are derived
from a position in the French nobility,
a title that the founders and brothers,
Arthur and Bertrand de Soultrait, do in
fact hold. The three lines in the spring/
summer 2013 collection - Excentric
Bivouac, Sport Chic and the Basic -
target all facets of a privileged fun-loving
lifestyle. The former caters to lavish jet-
setting summer travel, offering luxurious
fabrics of silk and cashmere in eccentric
As I perused the product offerings
on the Vicomte A. website (whilst
desperately wishing I understood
French and wondering what the current
exchange rate is), I couldn't help but
delight in the rich color palette and
pleasant pastels that characterize the
Vicomte A. ethos. The vibrant inspiration
fttingly came from jockey's silks, but
the clothing goes beyond bright colors
and diagonal sash-like stripes. A single
color does not dominate a look; instead,
separates yearn for bold pairings. Think
pink bermudas, a soft-hued green
blazer and a warm-blue tie seen in one
of my favorite men's looks, the rue de
martignac. Besides dapper preppy getup
and country club sporty ensembles, like
versatile A-line minis or coupling shorts
with a vibrant sports-coat, the brand
offers cheeky quirky pieces like sunglasses-and-
Obviously any style interpreted for or by equestrians
piques my interest. Vicomte A. does just that and, as
I am southbound to Florida soon, my wish for some
bright sun and warm weather naturally is followed with
a wish list of bright colors and styles from this brand
(luckily I'll be within reach of the aforementioned
retailers, but my broke-college-student budget is really
the ultimate barrier). For starters, the navy polos with
plaid trim would make a polished pairing with breeches
for schooling, kicking around the show grounds, or, if
you aren't a hunt coat purist, for the jumper ring. And
my absolute favorite: the electric yellow moccasins with
purple accent lacings. If there were any bliss nearly as
sweet as riding under palm trees in southern Florida,
it might be slipping into these loafers at the end of a
For more information, visit www.vicomte-a.com.
About the writer: Alessandra Shultz grew up in the mountains of
Colorado, but now lives in upstate New York where she is studying
Apparel Design Management at Cornell University. Alessandra covers
the fashion scene for Sidelines. She also has two mares that she trail
rides and shows in the jumpers.