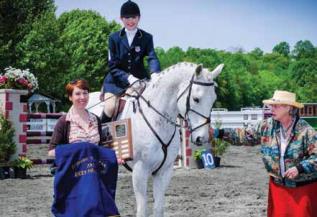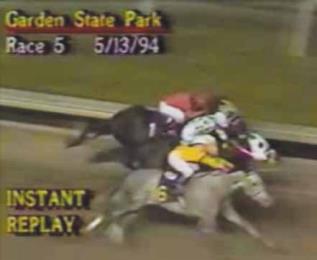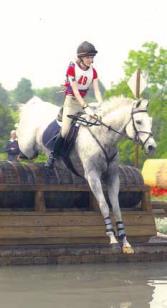 96 SIDELINES MAY 2013
FOR HORSE PEOPLE • ABOUT HORSE PEOPLE
International Three-day, Fling's
Memorial trophy in honor of the
oldest horse to complete the event
in the CCI** division. Fling was 18,
Photo by Shannon Brinkman
individuals in the 2007 North American Junior Young
Rider Championships. The coaches had decided
since Fling was 17, they couldn't take a chance on
his soundness and jeopardize the others by putting
him on the team, so we rode as individuals.
Fling proved his worth by fnishing better than
all the team horses, just missing the tenth place
spot for the country's best young riders. It was two
pesky rails that pushed us behind the ribbons. (The
only downfall I could ever place on Fling was that
sometimes he got lazy with his feet.) That was until
Fling shocked us all with three clear stadium
and cross-county rides between the red fags. My
mom knew how hard I had worked and she and I
were both nearly in tears after my frst big win in
the Young Rider's Open Intermediate at Plantation
Fields. In an 8-horse division, Fling was the only
one to leave up the rails in the show jumping, and
fnish without time faults cross-country. We had
In 2008, we fnished two CCI two stars, Fair
Hill International [Elkton, MD] and Jersey Fresh
[Allentown, NJ]. I still remember the chills at Jersey
when Fling's name was called during the award
ceremony. Alongside top horses and riders, Fling
and I walked to the middle of the ring to receive
Traveler's Memorial, a trophy, cooler and title, given
to the oldest off-the-track Thoroughbred to fnish the
event. At 18, it was no wonder cheers erupted in the
grandstand in tribute to such a noble horse. To this
day I believe Fling understood his being recognized;
he had never looked more proud.
When the end of summer hit far too quickly, Fling
accompanied me to college. My college friends
would often visit him at Full Gallop Farm, in Aiken,
South Carolina and I'd let them take him around the
felds, ride double, even pop over a few jumps with
me. Laura Anderson, who owns the farm, called
Fling a saint of a horse.
After a fnal jump school one January night,
Fling was ft and ready for our in house event the
following week. The phone call at seven a.m. the
next morning put our plans to rest and with it so did
Fling was gone. In the awful cold and rainy
morning I drove down the long sandy lane as I
had so many times before, only this time, instead
of grazing under the 300 year old Live Oak beside
the lane, Fling lay still and lifeless beneath it. He
must have had a heart attack, he was unscathed
and peaceful on the ground.
When a man came to take him away for me,
he comforted me in saying, "He will be in good
company, there are some million dollar racehorses
buried where he's going." Through my tears I had
to smile. I stroked Fling's soft gray fur one last time
and said, "That's good because he was a million
About the writer: Juliana Hutchings grew up in the Southeastern
hills of Pennsylvania and was in the saddle before she could walk.
Amidst eventing and training young horses she graduated from
the University of South Carolina in 2012 with a Bachelor of Arts in
Visual Communications. She is also the author of the best selling
novel, "A Horse to Remember," which she wrote when she was
country at their Young Rider
Photo by SportHorse Studio
Fling in his racing days – Fling, the
big gray machine, wins the race in
a three-horse photo fnish.