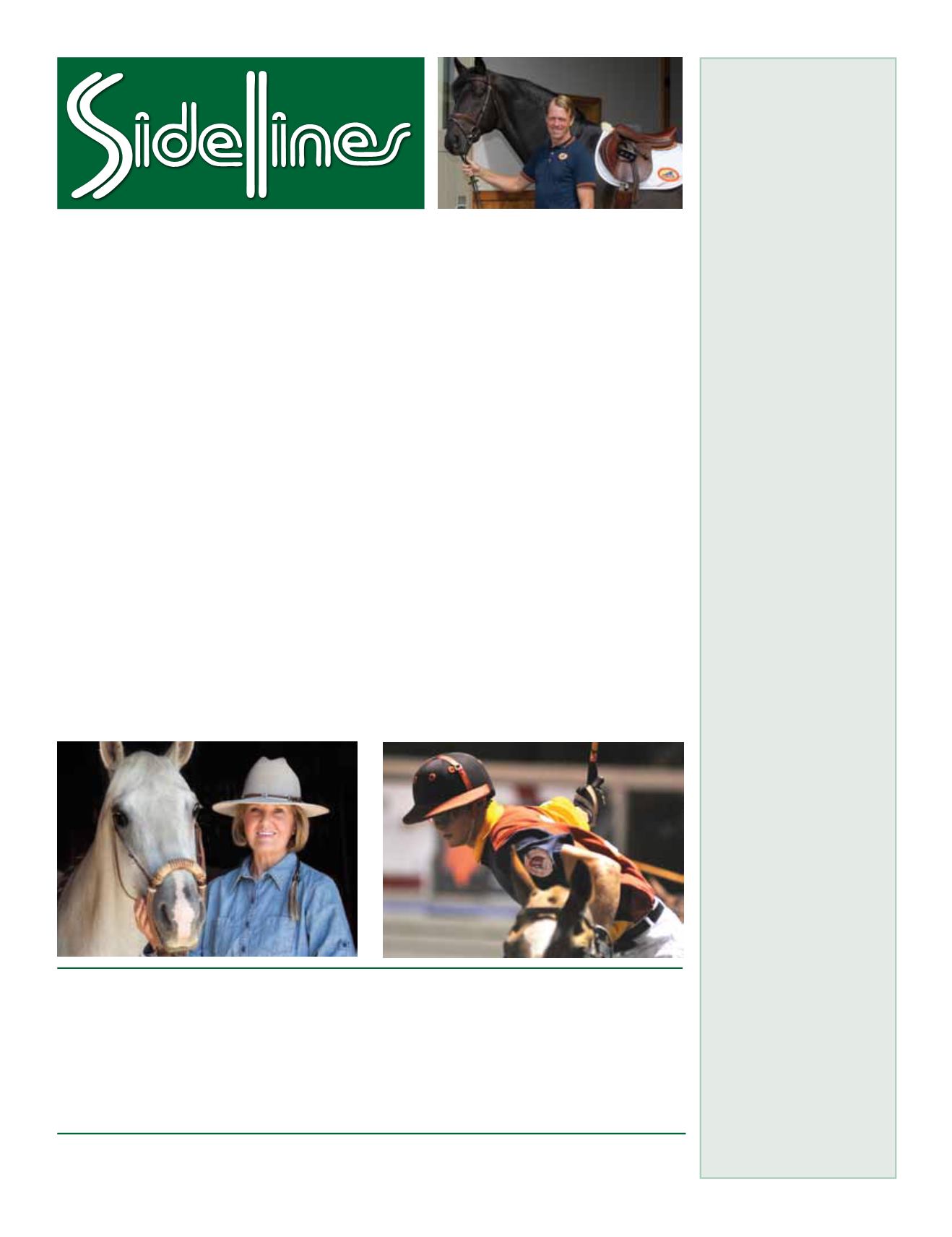 2 SIDELINES NOVEMBER 2013
FOR HORSE PEOPLE • ABOUT HORSE PEOPLE
Contents
Incorporating
HORSES USA
PUBLISHER
EDITOR-IN-CHIEF
STAFF WRITERS
Lauren Giannini, Dani Moritz
CONTRIBUTING WRITERS
Alexa Cheater, Arianna Delin,
Sydney Masters-Durieux, Doris Degner-
Foster, Amy Herzog, Kim MacMillan,
Katie Navarra, Jennifer Ward
PHOTOGRAPHERS
David Lominska, Jack Mancini ,
Flashpoint, Alan Fabricant, Susan Stickle
Lauren R. Giannini, Shawn McMillen
Kim & Allen MacMillan, Emily Allongo,
Anne Hoover, Beth Grant, Mandy Su
SIDELINES COLUMNISTS
Holly Hugo-Vidal – West Side Story
Lisa Hollister, Esq - Equine Law
Ann Reilly - Sports Psychology
European Connection
INTERNS
Katherine Martin, Alessandra Shultz,
Courtney Zimmerman, Christina Alex,
Caileigh Bryant, Rachel Cline,
ADVERTISING SALES MANAGER
NATIONAL SALES
LOCAL SALES – AK, AZ, CO, ID, LA,
MT, NM, NV, OK, TX, UT, WY
LOCAL SALES – AL, GA, MS, NC, SC, TN
CLASSIFIEDS
SUBSCRIPTIONS
Also For Change of Address
Maritherese Trimeloni-Alex
DISTRIBUTION
ART DIRECTOR/PRODUCTION MANAGER
AD DESIGN
SIDELINES, INC.
12400 A South Shore Blvd.
FL Office 803-649-6989
WebSite:
SIDELINES
(ISSN 1071-3859) is published
monthly for $29.95 per year by Sidelines, Inc.
12400 A South Shore Blvd., Wellington, FL
33414. Periodical postage paid at West Palm
Beach,FL33414andatadditionalmailingoffices
POSTMASTER:
Address changes should be
sent to900MoonlightCourt,St.Cloud,FL34771.
©Sidelines, Inc., 2013 All Rights Reserved
Features
14 The Artistic Visions of Bev Pettit
16 Good Food Hunting: A Taste of Fall
Jumps Into Entrepreneurship
52 The Absolutely Amazing Comeback
62 Fenwick Equestrian Paves the Way
64 My Story: Visiting Mongolia
92 Second Chances: Fly Lite
108 Lisa Perry: From Beeswax to Bronze
Horse Shows
12 Hope Glynn: Keeping It Upbeat
18 West Side Story: Chris Pratt
26 Canadian Connection: Sister Act
100 Sidelines Top Ten: Nicole Oliynyk
Department
104 Caitlin Boyle: Earning Her Own Name
106 Road to the Grand Prix:
Dressage
A Lifetime of Loving and Riding
Eventing
22 The Doolittle Sisters:
Polo
114 Wyatt Harlow's Lifetime Polo Journey
A Tribute to America
70 Cover Story: Peter Wylde
78 Fashion – Made in the U.S.A.
84 Colorado: "Hope Reins" at SaddleUp!
91 Saluting Our American Heroes
On the Cover:
Olympic show jumper Peter Wylde. Read his story, beginning on
Directories
118 Barns, Farms, Trainers, Clubs
120 Equestrian Services Education