Kelly Farmer on Red Sky Laura Kraut: Going for Gold Again By Halie Greening Laura Kraut strode into the Show Manager's Office with a smile on her face and some definite pep in her step, if she was nervous about the second Observation Event that would help determine the team for the 2012 Olympics, it didn't show. Laura and Cedric, the brilliant grey 14 year-old gelding who are currently ranked 4th on the Olympic Show Jumping Team's long list, will do their best to prove they should make the trip to London. Right off the bat Laura expressed her love for the sport asserting that the best part being a Grand Prix rider isn't the fame or the tremendous places she gets to travel, "the best part is the horses." The opportunity to be a part of one of the strongest duos in show jumping, and having a horse as extraordinary as Cedric is definitely something to be thankful for. As Laura signed her and her pal Cedric's name on the Breyer model of Cedric, I enjoyed a great conversation with the 2008 Olympic U.S. Team gold medalist about her goals for the future for herself and some potential new rides. She is currently riding the 9 year-old KWPN Dutch Warmblood, Woodstock O as well as the striking Belmont. Although these horses have some very high standards to live up to, Devon Horse Show managers David Distler and Peter Doubleday concurred that these horses are both "really cool." Hopefully their "coolness" carries through as Kraut has great faith that they will live up to her other superb rides.  If all goes well she plans to take them to The World Equestrian Games of 2014 in France, and the 2016 Olympic Games to take place in Rio de Janeiro .  Laura also has high hopes for her student Jessica Springsteen.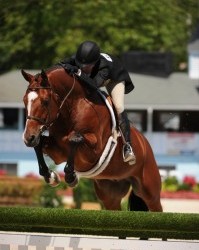 Read more at the source: Second Observation Event a Challenge
Article excerpt posted on Sidelinesnews.com from Show World.
Double D Trailers Info