Emi Richard
11 years old
Middlefield, Connecticut
What school do you go to?
I just finished school at Frank Ward middle school and hoping to do online school next year.
When did you start riding?
I've been riding since I was a baby.
Who is your trainer? 
I ride with all the trainers at Heritage Farm in Katona, New York — Andre Dignelli, Dottie Barnwell-Areson, Patricia Griffith and Laena Romond. I also train with my mom at Epic Farm in Middlefield, Connecticut. 
Tell us about your horses and ponies.
I own my horse, Drake, show name TopGun, and I do the 3'3" Junior Hunters and 3'3" Medals. Family friends own my pony, Boone, aka Game Plan, and I do the medium ponies. I also have a mini pony named Athena, and she is mostly just a pet.
What are your show plans for the rest of the year? 
After Pony Finals I'm going to the Hampton Classic and Capital Challenge. Not sure about Indoors but I will do the Washington Pony Medal. I'm also hoping to go to the 3'3"/3' Medal Finals.
What's your favorite thing about horses and ponies? 
Probably their personalities!
Do you have a favorite horse or pony?
I love all of them, but one of my first small pony hunters, Fairytales, is my favorite because he took me to my first Pony Finals, Devon and Indoors!
What's the best thing about being a rider?
I have some amazing opportunities to ride some amazing ponies!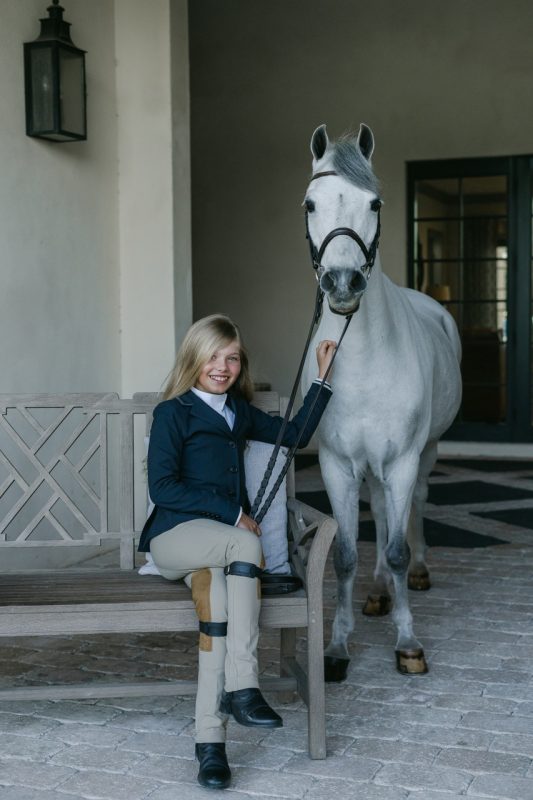 Do you have other hobbies or fun things that you do? 
I don't do any other sport, but I like to jump on foot!
What are some of your favorite shows you have competed in? 
Devon, Pony Finals, WEF, Tryon and Indoors
Does anyone in your family ride? 
My mom has been riding since she was a kid, but stopped riding when she was 14 and started snowboarding competitively. She started working with horses again in 2004.
Do you have any other pets? 
I have one dog named Cooper, he's 4-year-old Sheltie. I also have a cat named Ellie, she's 11, and a bunny named Snoopy.
What do you think you want to be when you grow up? 
I want to be a trainer but I also want to show and do Grand Prix. If I don't do stuff with horses I would be an interior designer.
Who inspires you? 
McLain Ward!
Photos by Shawna Simmons, www.sasequinephotography.com, @sasequinephotography
Double D Trailers Info