By Dani Moritz-Long
At 22 years old, eventer Jennie Brannigan was poised for Rolex and even the 2010 World Equestrian Games. She had the perfect partner in Cooper, a horse she had started as a 4-year-old, and an impressive track record — winning nine of 10 events in 2007–2008, landing atop the 2008 Adequan/USEA Gold Cup leaderboard and bringing home the gold for their team and individual wins at the NAJYRC.
Nothing was going to stop her; nothing could stand in her way. Or so she thought — until an unwelcome reality check did.
After an injury sustained at Fair Hill, Jennie made a choice that changed her life. She made the grueling, but humane, decision to put Cooper down, her horse of a lifetime who took her from an unknown rider with lofty ambitions to the center of national attention.
Losing the horse she described as a talented and beautiful partner with incredible heart could have easily derailed her young career, but, thanks to mentors like Phillip Dutton, Boyd Martin and Susie Hutchinson, Jennie mustered the strength and perseverance to continue.
"I think [losing Cooper] was important because that's what the sport really is," she said. "It's beautiful and amazing, but it's heartbreaking."
True Grit
Her loss — while tragic — proved pivotal in her career. She remembers the sage advice she received from Phillip Dutton. "You can choose right now to let the loss of that horse define you," he said, "or it can be a part of your story." Jennie chose, like many others, to ride on.
"You look at the riders who are successful — people who didn't have the money or had other setbacks," she said. "All these competitors have their own story that they could dwell on. One thing that's made me successful is grit. I try to teach my students and the people I come across that you have to ride like you want it more than life, and that's the number one thing it takes to be a successful event rider."
That means that when Jennie is riding — whether she's running beginner novice or a four-star — she means business. "I love my horses," she said, "but, when I ride, it's my job to get the job done. The day I leave the start box and don't ride like that, that's the day I quit."
An Upward Climb
Fortunately, Jennie's grit and persistence paid off. Rebounding from her loss of Cooper, fellow riders, owners, friends and family rallied around Jennie to help her start the next chapter of her career. A year after losing Cooper, she once again gained national acclaim with one of her current partners, Cambalda, or Ping for short, owned by Nina Gardner.
The duo earned the title of Horse of the Year in 2010 and continued to impress onlookers in subsequent years. This year, they've continued their success with wins at the three-star level. In July, Jennie and Ping rode to the individual title for a second time at Great Meadows International during the FEI Nations Cup Eventing Competition and also helped the U.S. Eventing Team secure the win.
Thanks to a partnership with several owners, who believe in Jennie's ability to bring up horses, Jennie is also working with a string of other impressive equine partners — each with the potential to climb the eventing ranks.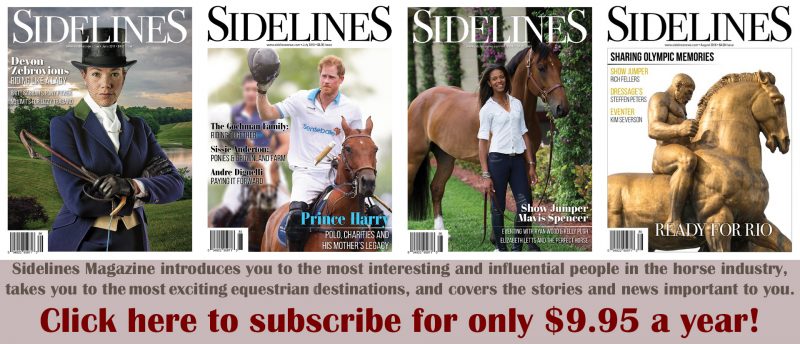 Working with each of them to bring out their best, Jennie says, is one of her favorite parts of the job. "What's important to me is enjoying the process of training the horses," she said. "I get joy from taking a horse who won't load in the trailer and getting it to load without beating it and taking the time to understand him. I like competing at a high level, but I like riding Training Level too."
An Eclectic Resume
Jennie — a self-described yes-person — also enjoys taking on new opportunities as they present themselves. This includes foxhunting with her boyfriend, which Jennie describes as a nice break from competitive eventing, and exercise riding for racehorse trainer Michael Matz, a hobby she picked up a few years ago.
"I'm an adrenaline junkie," she laughed, "so I enjoy feeling out of control sometimes."
Exercise riding has also proven beneficial on the event course, she explained. "It has made me lighter, and a bit tougher," she said. "Plus, I appreciate the variety of it and sharing my love of horses with those not necessarily in the same sport."
Giving Back
Today, while continuing her professional career in eventing, she also gives back to others through Brannigan Eventing as a coach, trainer and clinician. Through this program, based in Coatesville, Pennsylvania, she's happy to pass on her years of training with eventing legends and the life lessons she's learned along the way — from the necessity of grit to the power of saying yes.
She also hopes to continue passing on her contagious love of horses — and the reason she has made a career of heartbreaking spills and unbelievable thrills.
"It's important to enjoy riding just because it's fun," she said. "That's why I started, and I hope that I can always do things not just because it's my job, my passion or my career, but because it's fun."
For more information, visit Branniganeventing.com.
Double D Trailers Info