May 21 st ~2012, Conyers, GA- Yesterday marked the conclusion of the 9 th annual Atlanta Spring Challenge Horse Show.   The event took place at the Georgia International Horse Park in Conyers, GA and saw a record number of participants this year.  "We are beyond thrilled with the turnout", said show organizer JP Godard.  Godard, based out of his hometown of Aiken, SC, and his Equus Events have produced the show for the past nine years.  "I have to thank all of our exhibitors, staff, and sponsors for their continued support of Equus Events and the Atlanta Spring Challenge Horse Show", it is a team effort and without that support it is tough to grow in this economy".  "We have managed to build this event up the past 9 years and I am really looking forward to going all out for our 10 th anniversary next year!" Aaron Vale and Admiral Clover (Photo by Shawn McMillen Photography) The much anticipated $25,000 Atlanta Spring Challenge Grand Prix took place Saturday evening under the lights in the International Arena with 38 horse rider teams competing and a huge crowd set to cheer them on.  Olympic silver medalist Michel Vaillancourt designed a course that was challenging giving many riders some tricky spots to contest with.  The final jump, the Fenwick oxer #13 proved to be one of the more problematic spots as 9 riders had that final rail down in the first round.  After the initial round, 11 horses and riders graduated to the jump off including 2 entries for Ocala, FL based riders Aaron Vale and Sharn Wordley.  With only 4 clean, Aaron Vale and Carmen Rojas Admiral Clover soared to the win with a time of 40.648 just edging out Vale's second jump off qualifier Tibor owned by Bonnie Smith.  Megan Edrick also hailing from Ocala, FL took home the third place ribbon with the Procedures, Inc. owned entry of Cadence while Sharn Wordley and his Cederick rounded out the top 4 spots. During the class, exhibitors and spectators gathered ringside of the International ring to enjoy the show's annual Preakness Party and Exhibitors Dinner which was graciously sponsored by Daniel and Cathy Geitner and their DFG Stables.  The annual event also included a viewing of the 137 th Preakness Stakes on a big screen TV which was provided by the Kasper Family and Dr. Juan and Jennifer Gamboa.  The screams and cheers could be heard throughout the show grounds as I'll Have Another kept his Triple Crown hopes in an unbelievable finish.  A clothing sale and raffle fundraiser for beloved horse show braider Linda Tinkler was also a part of Saturday evening's events.  At the time of this press release over $4,500 had been raised to support Linda and her fight with breast cancer.  If you are interested in making a donation to this wonderful cause please contact Equus Events at 803-643-5698 or Megan@equusevents.com Sunday, the final showing day brought blue skies and many exciting finishes in the hunter and jumper rings.   In the jumper ring, Hayley Waters and her Tommy Bahama took home the blue in the $7,500 High Jr/Ao Jumper Classic over Meg Omara and Walstib Stable's Aragon Rouet who finished second.  Jared Peterson and Liviticus finished up in third.  Nelson Long and ML Hartwick capped off an exciting week by winning the NAL/WIHS Adult Jumper Classic over Dr.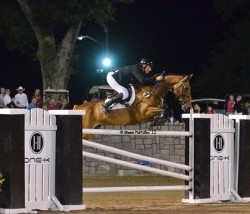 Read more at the source: Aaron Vale and Admiral Clover take home win in $25,000 Atlanta Spring Challenge Grand Prix
Article excerpt posted on Sidelinesnews.com from Show World.
Double D Trailers Info