Zen Horse Koi Scarf   WELLINGTON,Fla.(May 2, 2012) – Zen Horse Koi, the second in a series of collectible silk scarves to benefit the Equestrian Aid Foundation (EAF), is now available for sale. The scarf, designed by renowned artist Linda Bruff Luster, features rich, complementary colors that create wearable art. It can also be framed to produce a stunning focal point to any room. The sale of the scarves will benefit the EAF, which provides financial assistance for horsemen who are catastrophically injured or ill throughout their time of need. The Zen Horse Koi scarf is available for $175 online at the EAF website – www.equestrianaidfoundation.org .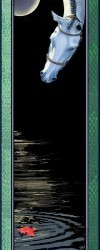 Read more at the source: Equestrian Aid Foundation Introduces 2nd Silk Scarf in the Zen Horse Collection to Assist Equestrians in Need
Article excerpt posted on Sidelinesnews.com from What's Happenin'.
Double D Trailers Info