The leaderboard has turned inside out and upside down in a glorious day of cross-country at Kentucky Rolex Three-Day Event presented by Bridgestone. The press conference just ended and the top three are: 1st & 2nd: Mary King (GBR) – Kings Temptress (47.7), Fernhill Urco (49.7) "I can't believe it—lying in first and second places! I've never been in this position before, especially not at this level, on two very different horses," said King,  who's thrilled to be eventing still at 49. "I'm going to celebrate tonight, because you never know what's around the corner." 3rd: Clayton Frederics (GBR) – Be My Guest "She's a pretty good cross-country mare, if I can keep her quiet. She was fantastic today—I really enjoyed it," said Fredericks, 43, who won his Rolex watch in 2007. 4th – Sinead Halpin (USA) – Manoir de Carneville "I was kind of excited when I first walked the course, because I thought it would be perfect for him," said Halpin, 29, her horse is 11; this is their first four-star together and they jumped clean but ran 11 seconds slow.  "I watched Mary [King] go, and then I didn't want to watch any more.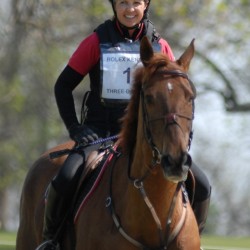 Read more at the source: OMG! KA-CHANG! Cross-Country Rings Huge Changes!
Article excerpt posted on Sidelinesnews.com from LaurenGallops.
Double D Trailers Info