Don't you hate when life gets in the way of your riding?  I've been defending a trial for one of my firm's municipal clients which means, essentially, that I've been living at the office.  Now that the worst of it is over, I've come to some shocking revelations: 1.  I have a horse!  He's really great, too.  Almost forgot about him…. 2.  I have a blog!  Two blogs, actually.  And there's been nothing but tumbleweeds rolling around on here the past few weeks.  Sorry about that, I hope no one has dust allergies. 3.  It's summer!  I was having trouble determining the season given that I've been living in air conditioning and under flourescent lights for three weeks. Tucker eyes his saddle suspiciously… vaguely recalling its purpose  This weekend, once my eyes adjusted to the daylight, I finally got to spend some real quality time with my horse, other than the hour or so I've been able to sneak in to check on him over the past three weeks.  (I've been told by a few people who drive pick-up trucks that Tucker has been coming to the fenceline expectantly when they pull in, hoping it was me, which is basically just the saddest and sweetest thing I've ever heard). I'm happy to report that Tucker was really super this weekend!  Even after three weeks off, he wasn't spooky or fresh or tense when I rode him yesterday, just lovely and forward and relaxed.  I lunged Saturday, and while he started off playing a bit, he settled right down in a few minutes, kept one ear trained on me, and responded to all my voice commands, which was a good sign.  My fingers are tightly crossed that the Ulcer Gard is working, and it will be the solution to all the ridiculous spooking and carryings-on as of late.  I don't think I can say for sure until I've had a few more good rides, which I'm planning to do this week.   We now have a new goal, which is to determine whether my horse is, in fact, pregnant, or whether some of this can be shed away with a few weeks of exercise: I swear I saw the baby kick….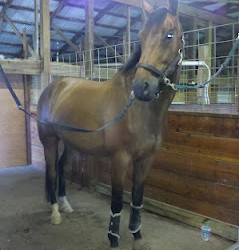 Read more at the source: Revelations
Article excerpt posted on Sidelinesnews.com from Tucker The Wunderkind.
Double D Trailers Info